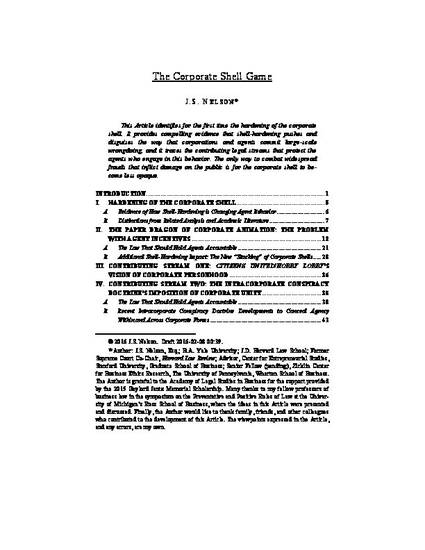 Unpublished Paper
The Corporate Shell Game
Working Paper (2016)
Abstract
This Article identifies for the first time the hardening of the corporate shell. It provides compelling evidence that shell-hardening pushes and disguises the way that corporations and agents commit large-scale wrongdoing, and it traces the contributing legal streams that protect the agents who engage in this behavior. The only way to combat widespread frauds that inflict damage on the public is for the corporate shell to be-come less opaque.
Keywords
Citizens United,
Hobby Lobby,
Newman,
Litvak,
Flannery,
Harp,
executives,
gap in the literature,
agency law,
criminal law,
tort law,
corporate law,
equity,
public policy,
criminal conspiracy,
civil conspiracy,
corporate conspiracy,
Volkswagen,
Libor,
financial crisis,
DOJ,
SEC,
securities fraud,
securities crime,
intracorporate conspiracy,
wrongdoing,
corporate social responsibility,
law and economics,
shareholder liability,
limited liability,
Nomura,
RBS,
RMBS,
big short,
Takata,
general motors,
warped,
warping,
distorted,
distorting,
related doctrines,
piercing the corporate veil,
veil-piercing,
responsible corporate officer doctrine,
control person liability,
retroactive imposition of the corporate veil,
reverse piercing of the corporate veil,
reverse veil-piercing,
stanford graduate school of business,
stanford,
harvard,
wharton,
michigan,
university of california at berkeley,
haas school of business,
academy of legal studies in business,
university of texas,
university of florida,
university of pennsylvania,
wharton school of business,
zicklin center for business ethics research,
hurst research in legal studies and ethics seminar,
jentz fellowship,
national prize,
outstanding proceedings,
best paper,
paper dragon,
corporate animation,
corporate shell,
hardening,
shell-hardening,
data,
stacking shells,
multinational corporations,
multinationals,
corporate representative,
scapegoat,
vice president of going to jail,
willing blindness,
top executives,
scope of wrongdoing,
middle management,
backlash,
parade,
shell
Citation Information
J.S. Nelson. "The Corporate Shell Game"
Working Paper
(2016)
Available at: http://works.bepress.com/josephine_sandler_nelson/23/