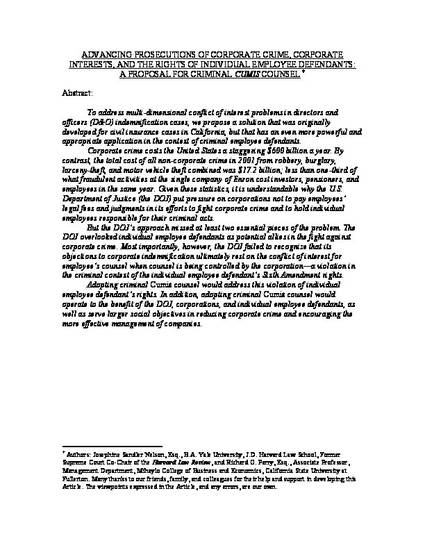 Article
PROTECTING EMPLOYEE RIGHTS AND PROSECUTING CORPORATE CRIMES: A PROPOSAL FOR CRIMINAL CUMIS COUNSEL
Berkeley Business Law Journal (2013)
Abstract
To address multi-dimensional conflict of interest problems in directors and officers (D&O) indemnification cases, we propose a solution that was originally developed for civil insurance cases in California, but that has an even more powerful and appropriate application in the context of criminal employee defendants.
Corporate crime costs the United States a staggering $600 billion a year. By contrast, the total cost of all non-corporate crime in 2001 from robbery, burglary, larceny-theft, and motor vehicle theft combined was $17.2 billion; less than one-third of what fraudulent activities at the single company of Enron cost investors, pensioners, and employees in the same year. Given these statistics, it is understandable why the U.S. Department of Justice (the DOJ) put pressure on corporations not to pay employees' legal fees and judgments in its efforts to fight corporate crime and to hold individual employees responsible for their criminal acts.
But the DOJ's approach missed at least two essential pieces of the problem. The DOJ overlooked individual employee defendants as potential allies in the fight against corporate crime. Most importantly, however, the DOJ failed to recognize that its objections to corporate indemnification ultimately rest on the conflict of interest for employees' counsel when counsel is being controlled by the corporation—a violation in the criminal context of the individual employee defendants' Sixth Amendment rights.
Adopting criminal Cumis counsel would address this violation of individual employee defendants' rights. In addition, adopting criminal Cumis counsel would operate to the benefit of the DOJ, corporations, and individual employee defendants, as well as serve larger social objectives in reducing corporate crime and encouraging the more effective management of companies.
Keywords
Sixth Amendment,
right to counsel,
employee defendant,
corporation,
employee,
conflict of interest,
stein,
DOJ,
Department of Justice,
criminal,
defendant,
cumis,
counsel,
cumis counsel,
new york,
delaware,
california,
statute,
litigation,
legislation,
RMBCA,
professional responsibility,
code of ethics,
ethics,
one client,
two-client,
sole client,
insurance,
insurer,
insurance company,
defense counsel,
restatement,
agency,
wood v. georgia
Citation Information
Josephine Sandler Nelson. 2012. "ADVANCING PROSECUTIONS OF CORPORATE CRIME, CORPORATE INTERESTS, AND THE RIGHTS OF INDIVIDUAL EMPLOYEE DEFENDANTS: A PROPOSAL FOR CRIMINAL CUMIS COUNSEL" Forthcoming in the Berkeley Business Law Journal (Vol. 10.1); Available at: http://works.bepress.com/josephine_sandler_nelson/2