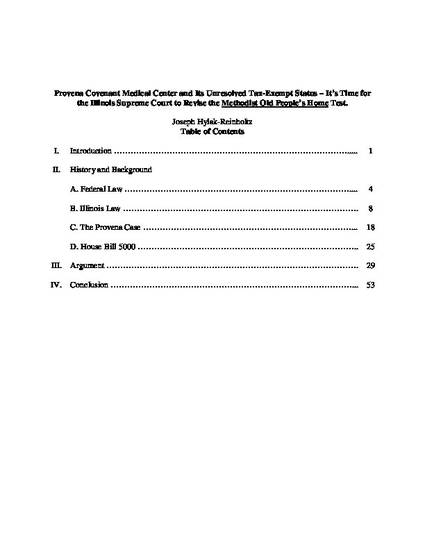 Unpublished Paper
Provena Covenant Medical Center and Its Unresolved Tax-Exempt Status - It's Time for the Illinois Supreme Court to Revise the Methodist Old People's Home Test
ExpressO (2008)
Abstract
Not-for-profit hospitals tax exemptions have been challenged by government officials for providing insufficient charity care to needy patients. In Illinois, not-for-profit tax exemptions are analyzed under a test developed by the state Supreme Court in Methodist Old Peoples Home v. Korzen. This comment argues, in light of the Provena litigation and subsequent appeal, that the court must revise its outdated test to reflect the realities of providing health care today in a not-for-profit system.
Keywords
nonprofit,
taxation,
tax-exemption,
not-for-profit,
Provena,
charity,
care,
uncompensated,
free
Publication Date
March 6, 2008
Citation Information
Joseph J. Hylak-Reinholtz. "Provena Covenant Medical Center and Its Unresolved Tax-Exempt Status - It's Time for the Illinois Supreme Court to Revise the Methodist Old People's Home Test"
ExpressO
(2008)
Available at: http://works.bepress.com/joseph_hylak_reinholtz/1/