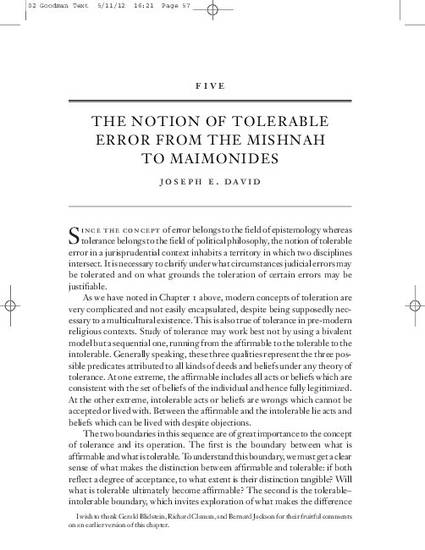 Contribution to Book
The Notion of Tolerable Error from the Mishnah to Maimonides
Toleration within Judaism (2013)
Abstract
Since the concept of error belongs to the field of epistemology whereas tolerance belongs to the field of political philosophy, the notion of tolerable error in a jurisprudential context inhabits a territory in which two disciplines intersect. It is necessary to clarify under what circumstances judicial errors may be tolerated and on what grounds the toleration of certain errors may be justifiable.
Keywords
Error,
Toleration,
maimonides,
Mishnah
Citation Information
JOSEPH DAVID. "The Notion of Tolerable Error from the Mishnah to Maimonides"
Toleration within Judaism
(2013)
Available at: http://works.bepress.com/joseph_david/12/