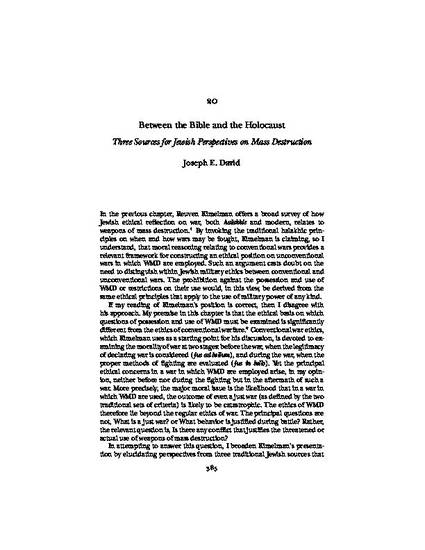 Contribution to Book
Between the Bible and the Holocaust: Three Sources for Jewish Perspectives on Mass Destruction
ETHICS AND WEAPONS OF MASS DESTRUCTION: RELIGIOUS AND SECULAR PERSPECTIVES (2004)
Abstract
Can the traditional Jewish theological or legal principles provide a moral view on the modern issue of mass destruction? If so, what kind of ethical principles should be counted for that? The fundamental claim of the article is that while distinguishing between conventional war ethics and mass destruction ethics, we can still base our ethical approaches to mass destruction on traditional principles. The author points on three possible sources and evaluates each of them according to the latent moral meaning that is carried with them. The three sources are the biblical idea of the 'Day of the Lord', the symbolic meaning of the rainbow covenant and the modern tragic experience of the Holocaust.
Publisher
Cambridge University Press
Citation Information
JOSEPH DAVID. "Between the Bible and the Holocaust: Three Sources for Jewish Perspectives on Mass Destruction"
ETHICS AND WEAPONS OF MASS DESTRUCTION: RELIGIOUS AND SECULAR PERSPECTIVES
(2004)
Available at: http://works.bepress.com/joseph_david/11/