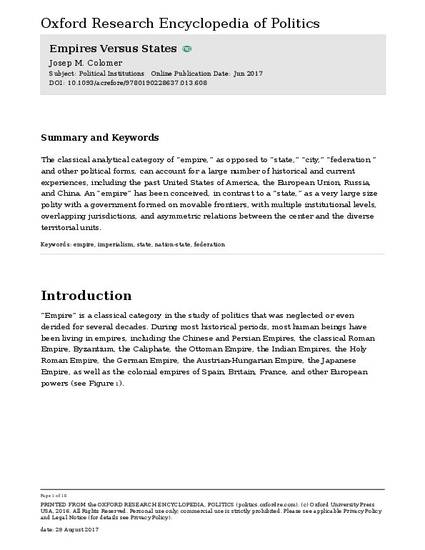 Article
Empires vs States
Oxford Research Encyclopedia of Politics (2017)
Abstract
The classical analytical category of "empire," as opposed to "state," "city," "federation," and other political forms, can account for a large number of historical and current experiences, including the past United States of America, the European Union, Russia, and China. An "empire" has been conceived, in contrast to a "state," as a very large size polity with a government formed on movable frontiers, with multiple institutional levels, overlapping jurisdictions, and asymmetric relations between the center and the diverse territorial units.
Keywords
Empire,
State,
Imperialism,
Federation,
United States,
European Union,
Russia,
China
Publication Date
August, 2017
Citation Information
Josep M. Colomer. "Empires vs States"
Oxford Research Encyclopedia of Politics
(2017)
Available at: http://works.bepress.com/josep_colomer/145/