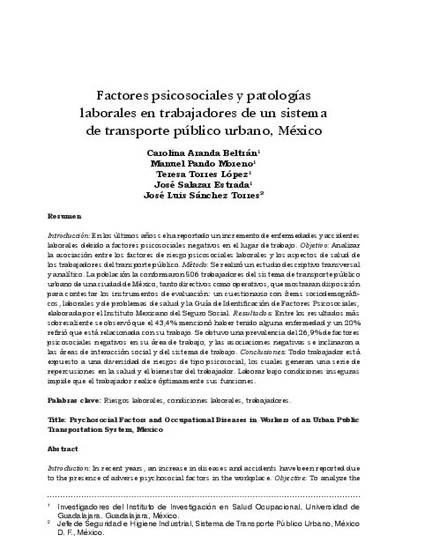 Article
FACTORES PSICOSOCIALES Y PATOLOGÍAS LABORALES EN TRABAJADORES DE UN SISTEMA DE TRANSPORTE PÚBLICO URBANO, MÉXICO
REVISTA COLOMBIANA DE PSIQUIATRÍA (2011)
Abstract
In recent years, an increase in diseases and accidents have been reported due to the presence of adverse psychosocial factors in the workplace. Objective: To analyze the Association between psychosocial factors at work and health aspects of public transport workers. Method: We conducted a crosssectional descriptive and analytical study. The population was made up of 506 workers (census) of an Urban Public Transport System of a city in Mexico including top management and operational personnel, that showed a willingness to answer the assessment instruments: A questionnaire with items of social-demographic, labor, and health problems and the Guidelines for the Identification of Psychosocial Factors developed by the Mexican Social Security Institute. Results: Among the most striking results we found that 43.4% reported having had an illness and 20% said that it was related to their work. The prevalence was 26.9% of adverse psychosocial factors in the work area, and the negative associations leant towards the areas of social interaction and the working system. Conclusions: Any worker is exposed to a variety of psychosocial risks, which generate a series of impacts on the health and wellbeing of the worker. Unsafe working conditions do not allow the worker to performhis/her functions optimally.
Keywords
Occupational risk,
working conditions,
workers
Citation Information
Carolina Aranda-Beltrán, Manuel Pando-Moreno, Teresa M Torres-López, José G. Salazar-Estrada, et al.. "FACTORES PSICOSOCIALES Y PATOLOGÍAS LABORALES EN TRABAJADORES DE UN SISTEMA DE TRANSPORTE PÚBLICO URBANO, MÉXICO"
REVISTA COLOMBIANA DE PSIQUIATRÍA
Vol. 40 Iss. 2 (2011)
Available at: http://works.bepress.com/jose_salazar/5/