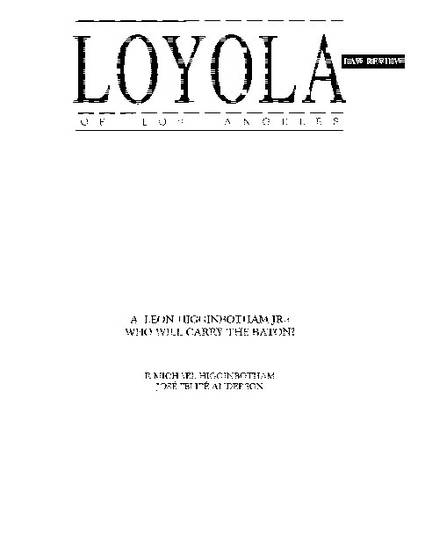 Article
A. Leon Higginbotham Jr.: Who Will Carry the Baton?
All Faculty Scholarship
Publication Date
4-1-2000
Abstract
It was a rainy November day during Thanksgiving weekend of 1997. The scene was the Washington, D.C., childhood home of Dr. Evelyn Brooks Higginbotham, A. Leon Higginbotham Jr.'s beloved wife. Our assignment was to assist in the removal, packing, and transport of a few prized family heirlooms that were to be taken to their home in Newton, Massachusetts.
On the early morning drive into Washington, D.C., our conversation was mostly idle chit-chat. Little did we know that the circumstances of the day would lead to an amazing set of discussions, the importance of which we could never have imagined at the time. When we arrived, we were greeted by "the Judge," who had just finished his breakfast. As we entered, he smiled and gave a sigh of relief noting that we had just enough time to pack up the items, load the car, and safely get to the airport even in the midst of the heavy rainfall.
Citation Information
F. Michael Higginbotham & José F. Anderson, A Tribute to Judge A. Leon Higginbotham; Who Will Carry the Baton?, 33 Loyola L. Rev. 1015 (2000)