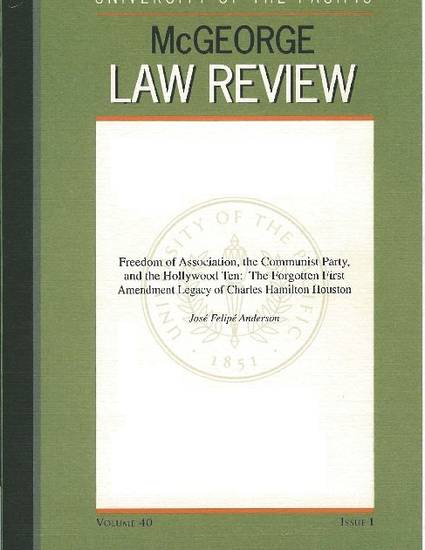 Article
Freedom of Association, the Communist Party, and the Hollywood Ten: The Forgotten First Amendment Legacy of Charles Hamilton Houston
All Faculty Scholarship
Publication Date
1-1-2009
Abstract
Charles Hamilton Houston, the most important civil rights lawyer of the first half of the 20th century who developed the legal strategy in Brown v. Board of Education, ended his fabulous legal career representing a group of Hollywood screen writers known as the Hollywood Ten. See Lawson and Trumbo v. United States, 176 F.2d 49 (D.C. App.1949). In that case convictions and jail sentences were upheld for the defendants' failure to answer questions from the House Committee on Un-American Activities (HCUA) about their views on communism and whether or not each was members of the Communist Party. The matters in Congress led to "blacklisting" of certain persons from jobs in the film and entertainment industry who either were named as Communist or refused to provide names of others who might be.
This article suggests that Houston's "Theory of Freedom" combining various provisions of the Constitution to develop greater fundamental rights.
An examination of the documents filed in the case reveal this "prophetic" approach to constitutional litigation that is the hallmark of what some have called "Houstonian Jurisprudence". Furthermore, a historical examination of Houston's long and interesting relationship with the Communist party in matters of litigation, while at the same time maintaining a steadfast belief in the principles of Democracy create an interesting tapestry of an important historical and legal period in the United States.
Citation Information
Freedom of Association, the Community Party, and the Hollywood Ten: The Forgotten First Amendment Legacy of Charles Hamilton Houston, 40 McGeorge L. Rev 25 (2009)