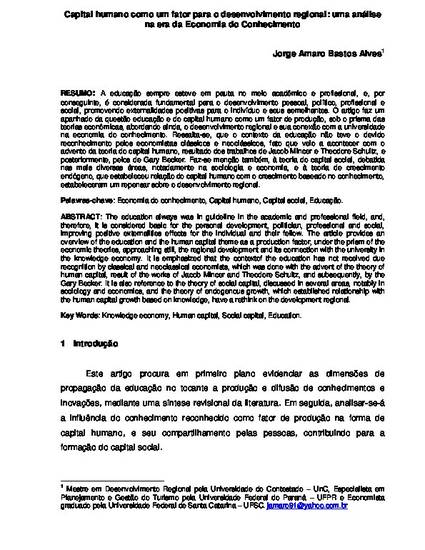 Unpublished Paper
Capital humano como um fator para o desenvolvimento regional: uma análise na era da Economia do Conhecimento
(2009)
Abstract
A educação sempre esteve em pauta no meio acadêmico e profissional, e, por conseguinte, é considerada fundamental para o desenvolvimento pessoal, político, profissional e social, promovendo externalidades positivas para o indivíduo e seus semelhantes. O artigo faz um apanhado da questão educação e do capital humano como um fator de produção, sob o prisma das teorias econômicas, abordando ainda, o desenvolvimento regional e sua conexão com a universidade na economia do conhecimento. Ressalta-se, que o contexto da educação não teve o devido reconhecimento pelos economistas clássicos e neoclássicos, fato que veio a acontecer com o advento da teoria do capital humano, resultado dos trabalhos de Jacob Mincer e Theodore Schultz, e posteriormente, pelos de Gary Becker. Faz-se menção também, à teoria do capital social, debatida nas mais diversas áreas, notadamente na sociologia e economia, e à teoria de crescimento endógeno, que estabeleceu relação do capital humano com o crescimento baseado no conhecimento, estabeleceram um repensar sobre o desenvolvimento regional.
-----------------------------------------------------------------------------------------------
The education always was in guideline in the academic and professional field, and, therefore, it is considered basic for the personal development, politician, professional and social, improving positive externalities effects for the individual and their fellow. The article provides an overview of the education and the human capital theme as a production factor, under the prism of the economic theories, approaching still, the regional development and its connection with the university in the knowledge economy. It is emphasized that the contextof the education has not received due recognition by classical and neoclassical economists, which was done with the advent of the theory of human capital, result of the works of Jacob Mincer and Theodore Schultz, and subsequently, by the Gary Becker. It is also reference to the theory of social capital, discussed in several areas, notably in sociology and economics, and the theory of endogenous growth, which established relationship with the human capital growth based on knowledge, have a rethink on the development regional.
Keywords
Economia do conhecimento,
Capital humano,
Capital social,
Educação
Publication Date
March, 2009
Citation Information
Jorge Amaro Bastos Alves. "Capital humano como um fator para o desenvolvimento regional: uma análise na era da Economia do Conhecimento" (2009)
Available at: http://works.bepress.com/jorgeab_alves/2/