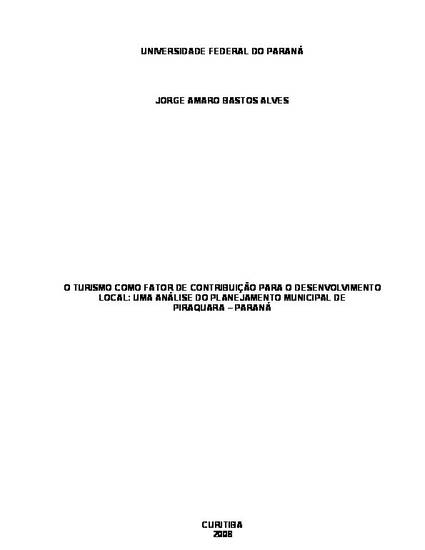 Other
O turismo como fator de contribuição para o desenvolvimento local: uma análise do planejamento municipal de Piraquara – Paraná
(2008)
Abstract
Esse trabalho monográfico teve como objetivo identificar se o Turismo é visto como uma estratégia de desenvolvimento pela administração pública municipal de Piraquara, analisando como o Turismo está inserido no planejamento do município. Por ser uma pesquisa aplicada, visou-se assim, poder contribuir para a solução dos problemas atinentes ao tema do conhecimento, i.e., procurou-se colaborar com o debate sobre o contributo da atividade turística de forma planejada para o desenvolvimento sustentável de municípios, notadamente, aqueles que possuem o meio ambiente protegido, haja vista, que as diretrizes para o desenvolvimento nessas regiões passam por arranjos políticos, econômicos e sociais que muitas vezes tem se pautado em critérios não consonantes à realidade dessas localidades, ocorrendo então o desenvolvimento, geralmente, a partir de modelos importados, que não realçam e valorizam as características peculiares de cada lugar. Trata-se de um estudo com tema multidisciplinar que abrange planejamento, economia, turismo e meio ambiente, o que exigiu que se buscasse a inter-relação entre essas áreas do conhecimento. Este trabalho imprime uma visão mais pública e institucionalista da economia e do desenvolvimento, por entender que uma boa gestão pública interfere na eficiência da economia da mesma forma que instituições mais eficientes farão com que a economia produza o mesmo com menos investimento.
Palavras chave: Turismo. Planejamento Municipal. Desenvolvimento Local. Piraquara.
This monographic study aimed to identify whether Tourism is seen as a development strategy for the municipal government of Piraquara, examining how Tourism is in the planning of the municipality. Being this an applied research, the intention was contributing to the solution of problems pertaining to the subject of knowledge, i.e., it tried to collaborate with the debate about the contribution of tourism as a planned activity for the sustainable development of cities, notably, those environmentaly protected, whereas that, the guidelines for development in these regions are arranged by political, economic and social aspects, which are often guided by standards that are inconsistant with the local reality, what makes the development happen, generally, from imported models, that do not enhance and emphasize the peculiar characteristics of each place. This is a multidisciplinary study with a theme that englobes planning, economy, tourism and environment, what demanded the search to make the interrelation with these areas of knowledge. This paper prints a more public and institutionalist vision of economy and development, for understanding that good governance interferes with the efficiency of the economy, the same way more efficient institutions will make the economy produces the same with less investment.
Key words: Tourism. Municipal Planning. Local Development. Piraquara.
Keywords
Turismo,
Planejamento Municipal,
Desenvolvimento Local,
Piraquara.
Publication Date
December, 2008
Citation Information
Jorge Amaro Bastos Alves. "O turismo como fator de contribuição para o desenvolvimento local: uma análise do planejamento municipal de Piraquara – Paraná" (2008)
Available at: http://works.bepress.com/jorgeab_alves/11/