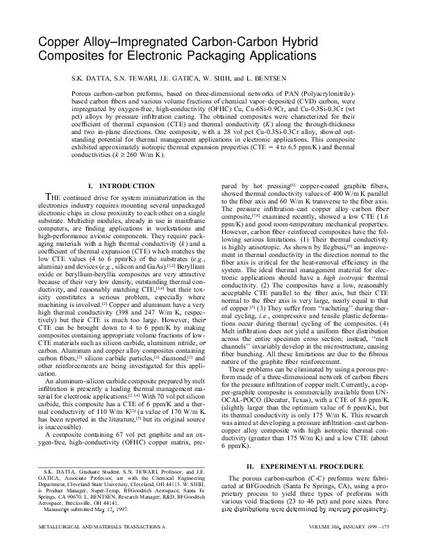 Article
Copper Alloy-Impregnated Carbon-Carbon Hybrid Composites for Electronic Packaging Applications
Metallurgical and Materials Transactions A: Physical Metallurgy and Materials Science
Publication Date
1-1-1999
Abstract
Porous carbon-carbon preforms, based on three-dimensional networks of PAN (Polyacrylonitrile)-based carbon fibers and various volume fractions of chemical vapor-deposited (CVD) carbon, were impregnated by oxygen-free, high-conductivity (OFHC) Cu, Cu-6Si-0.9Cr, and Cu-0.3Si-0.3Cr (wt pct) alloys by pressure infiltration casting. The obtained composites were characterized for their coefficient of thermal expansion (CTE) and thermal conductivity (K) along the through-thickness and two in-plane directions. One composite, with a 28 vol pct Cu-0.3Si-0.3Cr alloy, showed outstanding potential for thermal management applications in electronic applications. This composite exhibited approximately isotropic thermal expansion properties (CTE = 4 to 6.5 ppm/K) and thermal conductivities (k greater than or equal to 260 W/m K).
DOI
10.1007/s11661-999-0205-7
Publisher's Statement
Copyright 1999 ASM International. This paper was published in Metallurgical and Materials Transactions A: Physical Metallurgy and Materials Science, Vol. 30, Issue 1, pp. 175-181 and is made available as an electronic reprint with the permission of ASM International. One print or electronic copy may be made for personal use only. Systematic or multiple reproduction, distribution to multiple locations via electronic or other means, duplications of any material in this paper for a fee or for commercial purposes, or modification of the content of this paper are prohibited.
Available on publisher's site at: http://www.asminternational.org/portal/site/www/AsmStore/ProductDetails/?vgnextoid=8d441774ef326210VgnVCM100000621e010aRCRD.
Citation Information
Datta, S.K., Tewari, S.N, Gatica, J.E., Shih, W., & Bentsen, L. (1999). Copper Alloy-Impregnated Carbon-Carbon Hybrid Composites for Electronic Packaging Applications. Metallurgical and Materials Transactions A: Physical Metallurgy and Materials Science
30
, 175-181.