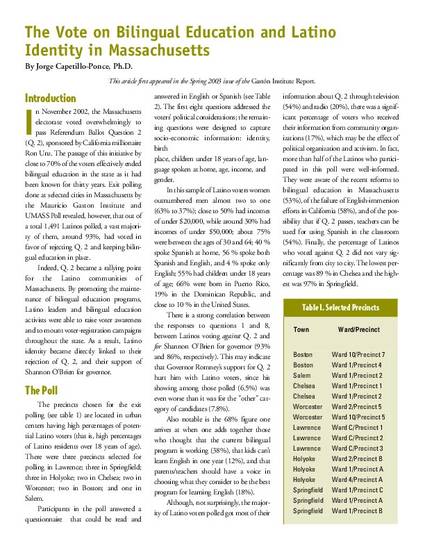 Article
The Vote on Bilingual Education and Latino Identity in Massachusetts
Gastón Institute Publications
Publication Date
4-1-2003
Abstract
In November 2002, the Massachusetts electorate voted overwhelmingly to pass Referendum Ballot Question 2 (Q. 2), sponsored by California millionaire Ron Unz. The passage of this initiative by close to 70% of the voters effectively ended bilingual education in the state as it had been known for thirty years. Exit polling done at selected cities in Massachusetts by the Mauricio Gaston Institute and UMass Poll revealed, however, that out of a total 1,491 Latinos polled, a vast majority of them, around 93%, had voted in favor of rejecting Q. 2 and keeping bilingual education in place. Indeed, Q. 2 became a rallying point for the Latino communities of Massachusetts. By promoting the maintenance of bilingual education programs, Latino leaders and bilingual education activists we re able to raise voter awareness and to mount voter - registration campaigns throughout the state. As a result, Latino identity became directly linked to their rejection of Q. 2, and their support of Shannon O'Brien for governor.
Community Engaged/Serving
No, this is not community-engaged.
Citation Information
Jorge Capetillo-Ponce. "The Vote on Bilingual Education and Latino Identity in Massachusetts" (2003)
Available at: http://works.bepress.com/jorge_capetillo-ponce/4/