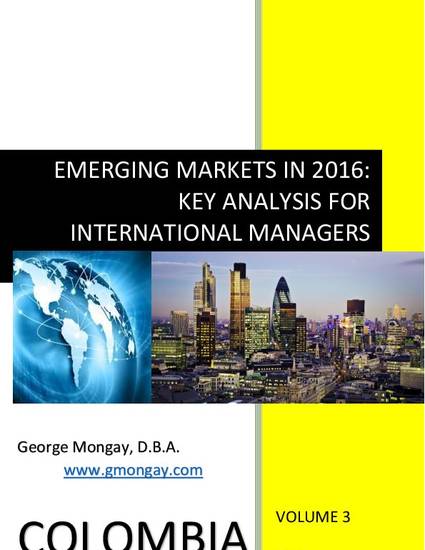 Handout
Colombia 2016. Key Analysis for International Managers. Volume III
Emerging Markets (2016)
Description
This is a set of country reports including a total of 11 volumes which relate to the topic of Emerging Markets also called Emerging Nations. The goal of the paper has been to collect the most relevant data for international managers in order to determine the market attractiveness of these countries in short, mid and long term. (Either for investors, exporters or importers).  The collection of papers includes the following countries:
Brazil, China, Colombia, India, Indonesia, Mexico, Russia, South Africa, South Korea, Thailand and Turkey.
As it is explained in the text, there are many classifications of Emerging Markets as BRICS, Next 11, Eagles, etc. The author uses the Russell classification taking into consideration that this particular system is based on a wide variety of factors, both quantitative and qualitative. In general, Russell Indexes assess markets across three data points for each country: country level risk, market access accessibility (includes liquidity) and operational concerns. The indexes are the ones used in Global Edge, Academy of International Business as well. 
Publication Date
Summer August 5, 2016
Citation Information
Jorge Mongay. "Colombia 2016. Key Analysis for International Managers. Volume III"
Emerging Markets
(2016)
Available at: http://works.bepress.com/jorge-mongay/3/