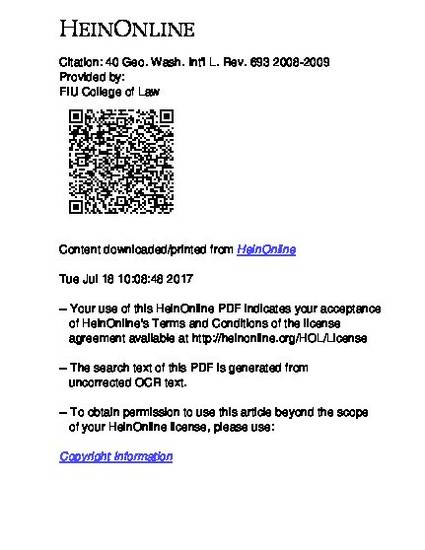 Article
Writing the Law of Latin America
Geo. Wash. Int'l L. Rev.
Publication Date
1-1-2009
Excerpt
Latin America scholars have largely neglected the constructivist role of legal discourse as it relates to the region's national legal systems. This dimension of law includes the range of traditional legal scholarship in all its various stripes. It also extends to other forms of legal writing, including expert consultant reports, multidisciplinary studies, and transnational work. An example of the latter is Lesley McAllister's Making Law Matter: Environmental Protection and Legal Institutions in Brazil, featured in this symposium edition.' The present Essay-while not a review of her book-explores the broader area in which she writes: namely, Latin American legal transnationalism. My general observations of the field, here, are not meant as specific comments on Professor McAllister's work. Rather, at certain points, I refer to sections of her book as examples of the ways in which transnational scholars grapple with some of the issues identified below.
Citation Information
Jorge L. Esquirol. "Writing the Law of Latin America"
Geo. Wash. Int'l L. Rev.
Vol. 40 (2009) p. 693
Available at: http://works.bepress.com/jorge-esquirol/7/