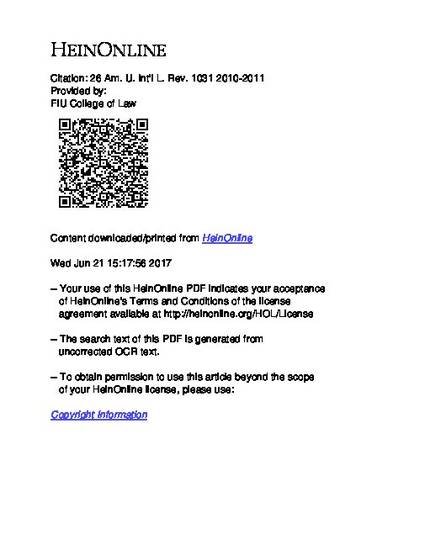 Article
The Turn to Legal Interpretation in Latin America
Am. U. Int'l L. Rev.
Publication Date
1-1-2011
Excerpt
The present Essay begins to explore this background dichotomy of the current legal interpretation debates. At first glance, Latin American "interpretationists" seem merely to be echoing the legal realists in their opposition to formalist legal thought. Upon further inspection, however, it becomes clear that, by taking as their foil an aberrational Latin American legal formalism, interpretationists are simply reproducing the common diagnosis of pervasive legal failure within the region. This Essay argues that, in doing. so, the new interpretation may yield some significantly self-defeating and unintended effects. Admittedly, the many examples and case studies the topic fully merits are not possible in this short piece. To begin this discussion, nonetheless, Part I briefly identifies the salient features of the new interpretation. Part II summarizes the sources of the failed law background against which it is conducted, drawing on some of my earlier work. Finally, Part III indicates various drawbacks of the new interpretation, highlighting its dependence on the failed law concept.
Citation Information
Jorge L. Esquirol. "The Turn to Legal Interpretation in Latin America"
Am. U. Int'l L. Rev.
Vol. 26 (2011) p. 1031
Available at: http://works.bepress.com/jorge-esquirol/6/