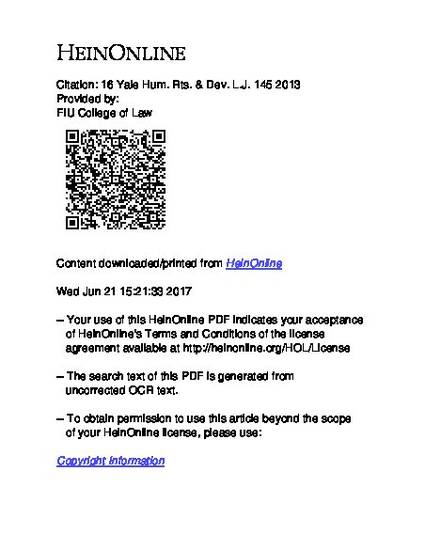 Article
Legal Latin Americanism
Yale Hum. Rts. & Dev. L.J.
Publication Date
1-1-2013
Excerpt
The present essay begins to explore the distinction between the fields of legal Latin Americanism and national legal discourse in Latin American countries. Section II briefly outlines the specificity of legal discourse in Latin America at the national level. Part of this specificity derives, no doubt, from differences in the legal issues most prominent in each context. More importantly, though, is its distinctiveness resulting from epistemological differences, such as distinct histories of jurisprudence, particular modes of reading authoritative texts, and contextually persuasive types of argumentation. Section III highlights the overall characteristics and relevance of legal Latin Americanism, as produced mainly in the U.S. This field of knowledge disproportionately trains legal realist insights on law in Latin America, while mostly accepting liberal legal ideology in the global North at face value. This produces a persistent image of legal failure in the region, compared to an idealized vision of liberal law in the more developed countries. Finally, Section IV describes some of the recent developments in the field of legal Latin Americanism and examines the pros and cons of some of these approaches.
Citation Information
Jorge L. Esquirol. "Legal Latin Americanism"
Yale Hum. Rts. & Dev. L.J.
Vol. 16 (2013) p. 145
Available at: http://works.bepress.com/jorge-esquirol/13/