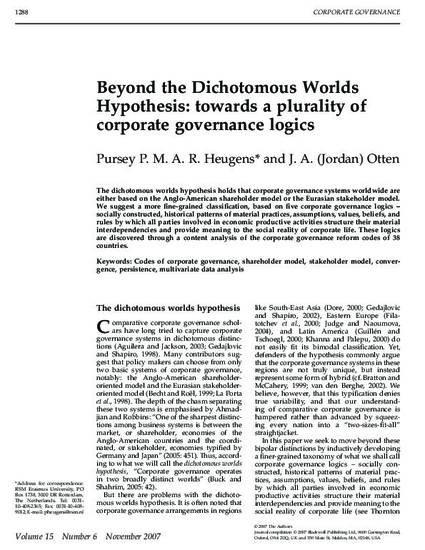 Article
Beyond the dichotomous worlds hypothesis: towards a plurality of corporate governance logics
Corporate Governance: An International Review (2007)
Abstract
The dichotomous worlds hypothesis holds that corporate governance systems worldwide are either based on the Anglo-American shareholder model or the Eurasian stakeholder model. We suggest a more fine-grained classification, based on five corporate governance logics –socially constructed, historical patterns of material practices, assumptions, values, beliefs, and rules by which all parties involved in economic productive activities structure their material interdependencies and provide meaning to the social reality of corporate life. These logics are discovered through a content analysis of the corporate governance reform codes of 38 countries.
Keywords
International corporate governance,
corporate governance reform,
corporate governance best practices
Citation Information
Jordan Otten. "Beyond the dichotomous worlds hypothesis: towards a plurality of corporate governance logics"
Corporate Governance: An International Review
Vol. 15 Iss. 6 (2007)
Available at: http://works.bepress.com/jordanotten/1/