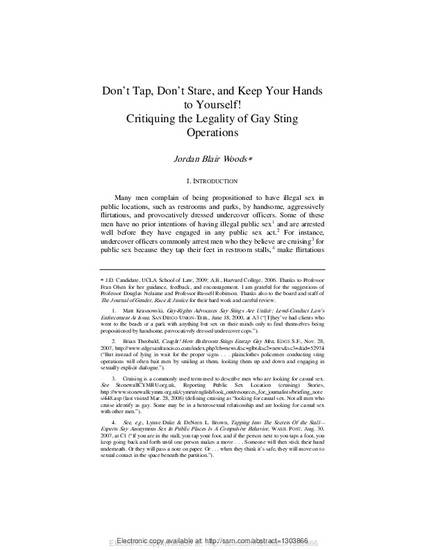 Article
Systemic Racial Bias and RICO's Application to Criminal Street and Prison Gangs
Michigan Journal of Race & Law (2012)
Abstract
This Article presents an empirical study of race and the application of the federal Racketeer Influenced and Corrupt Organizations Act (RICO) to criminal street and prison gangs. A strong majority (approximately 86%) of the prosecutions in the study involved gangs that were affiliated with one or more racial minority groups. All but one of the prosecuted White-affiliated gangs fell into three categories: international organized crime groups, outlaw motorcycle gangs, and White supremacist prison gangs. Some scholars and practitioners would explain these findings by contending that most criminal street gangs are comprised of racial minorities. This Article challenges and problematizes this factual assumption by critically examining the processes by which the government may come to label certain criminal groups as gangs for RICO purposes. Based on the study findings, the Article argues that this labeling may be driven by systemic racial biases that marginalize entire racial minority groups and privilege mainstream nonimmigrant White communities. These systemic biases are characterized by converging constructions of race and crime, which fuse perceptions of gang-related crime with images of racial minorities. Conflating racial minorities with criminal activity enables the government to rely upon denigrating racial stereotypes in order to engage in invidious practices of racial profiling and to conduct sweeping arrests of racial minorities under RICO. This conflation also shields groups of nonimmigrant White criminal offenders from being conceptualized as gangs and shields nonimmigrant White neighborhoods from the stigma of having gang problems. In practice, this may harm communities that have White gang problems by preventing the government from executing gang-specific interventions within those communities.
Keywords
Criminal Law,
Critical Race Studies,
Racketeering,
Gangs
Publication Date
August 8, 2012
Citation Information
Jordan Woods. "Systemic Racial Bias and RICO's Application to Criminal Street and Prison Gangs"
Michigan Journal of Race & Law
Vol. 17 (2012) p. 303
Available at: http://works.bepress.com/jordan-woods/6/