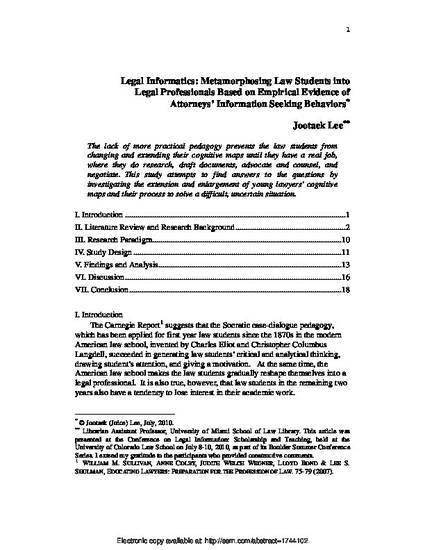 Article
Legal Informatics: Metamorphosing Law Students into Legal Professionals Based on Empirical Evidence of Attorneys' Information Seeking Behaviors
International Journal of Legal Information (2012)
Abstract
Law students' practical ability to seek information by researching and to organize the complex layers of legal and non-legal information will not be enhanced without the law school's special efforts to provide pedagogies of practice in their remaining two years. In other words, the lack of more practical pedagogy prevents the law students from changing and extending their cognitive maps until they have a real job, where they do research, draft documents, advocate and counsel, and negotiate. 
This study attempts to find answers to the questions by investigating the extension and enlargement of young lawyers' cognitive maps and their process to solve a difficult, uncertain situation. I believe that unraveling the mystery of their information seeking will contribute on law librarians' efforts to develop an appropriate curriculum specifically for 2L and 3L students and further, how to design the advanced legal research and upper-level writing classes.
Keywords
legal,
informatics,
information,
seeking,
behavior,
needs,
problem-solving,
solve,
teaching methods,
pedagogy,
pedagogies,
practical,
lawyers,
cognitive map,
curriculum,
legal research
Citation Information
Jootaek Lee. "Legal Informatics: Metamorphosing Law Students into Legal Professionals Based on Empirical Evidence of Attorneys' Information Seeking Behaviors"
International Journal of Legal Information
Vol. 39.1 (2012)
Available at: http://works.bepress.com/jootaek_lee/8/