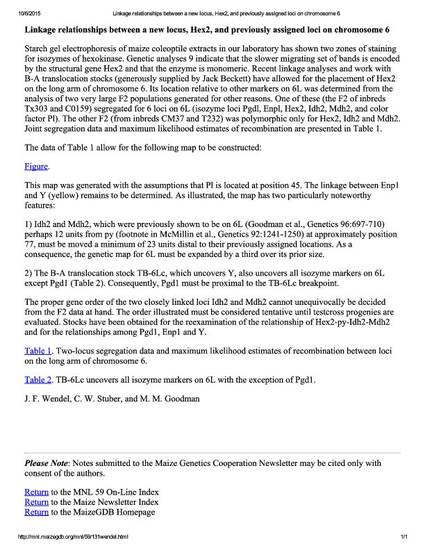 Article
Linkage Relationships Between a New Locus, Hex2, and Previously Assigned Loci on Chromosome 6
Maize Genetics Cooperation Newsletter (1985)
Abstract
Starch gel electrophoresis of maize coleoptile extracts in our laboratory has shown two zones of staining for isozymes of hexokinase. Genetic analyses 9 indicate that the slower migrating set of bands is encoded by the structural gene Hex2 and that the enzyme is monomeric. Recent linkage analyses and work with B-A translocation stocks (generously supplied by Jack Beckett) have allowed for the placement ofHex2 on the long arm of chromosome 6. Its location relative to other markers on 6L was determined from the analysis of two very large F2 populations generated for other reasons.
Keywords
Starch gel electrophoresis,
maize,
recombination
Citation Information
Jonathan F. Wendel, Charles W. Stuber and Major M. Goodman. "Linkage Relationships Between a New Locus, Hex2, and Previously Assigned Loci on Chromosome 6"
Maize Genetics Cooperation Newsletter
Vol. 59 (1985)
Available at: http://works.bepress.com/jonathan_wendel/7/