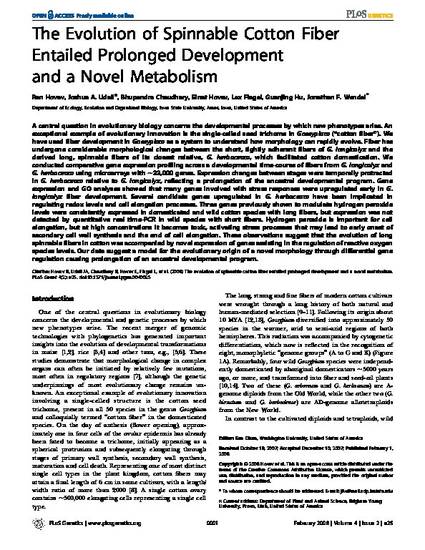 Article
The Evolution of Spinnable Cotton Fiber Entailed Prolonged Development and a Novel Metabolism
PLoS Genetics
Publication Version
Published Version
Publication Date
2-1-2008
DOI
10.1371/journal.pgen.0040025
Abstract
A central question in evolutionary biology concerns the developmental processes by which new phenotypes arise. An exceptional example of evolutionary innovation is the single-celled seed trichome in Gossypium (''cotton fiber''). We have used fiber development in Gossypium as a system to understand how morphology can rapidly evolve. Fiber has undergone considerable morphological changes between the short, tightly adherent fibers of G. longicalyx and the derived long, spinnable fibers of its closest relative, G. herbaceum, which facilitated cotton domestication. We conducted comparative gene expression profiling across a developmental time-course of fibers from G. longicalyx and G. herbaceum using microarrays with ;22,000 genes. Expression changes between stages were temporally protracted in G. herbaceum relative to G. longicalyx, reflecting a prolongation of the ancestral developmental program. Gene expression and GO analyses showed that many genes involved with stress responses were upregulated early in G. longicalyx fiber development. Several candidate genes upregulated in G. herbaceum have been implicated in regulating redox levels and cell elongation processes. Three genes previously shown to modulate hydrogen peroxide levels were consistently expressed in domesticated and wild cotton species with long fibers, but expression was not detected by quantitative real time-PCR in wild species with short fibers. Hydrogen peroxide is important for cell elongation, but at high concentrations it becomes toxic, activating stress processes that may lead to early onset of secondary cell wall synthesis and the end of cell elongation. These observations suggest that the evolution of long spinnable fibers in cotton was accompanied by novel expression of genes assisting in the regulation of reactive oxygen species levels. Our data suggest a model for the evolutionary origin of a novel morphology through differential gene regulation causing prolongation of an ancestral developmental program.
Rights
This is an open-access article distributed under the terms of the Creative Commons Attribution License, which permits unrestricted use, distribution, and reproduction in any medium, provided the original author and source are credited.
Copyright Owner
Ran Hovav, et al.
File Format
application/pdf
Citation Information
Ran Hovav, Joshua A. Udall, Bhupendra Chaudhary, Einat Hovav, et al.. "The Evolution of Spinnable Cotton Fiber Entailed Prolonged Development and a Novel Metabolism"
PLoS Genetics
Vol. 4 Iss. 2 (2008) p. 1 - 9
Available at: http://works.bepress.com/jonathan_wendel/43/