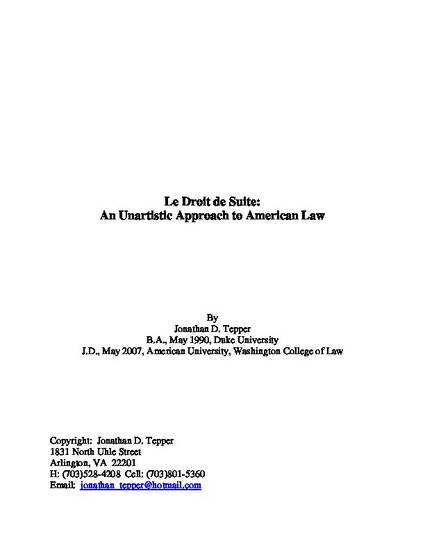 Unpublished Paper
Le Droit de Suite: An Unartistic Approach to American Law
ExpressO (2007)
Abstract
This article investigates the expansion of copyright law to include the implementation of the droit de suite or resale royalty on the sale of art in the United States. The articles concludes that royalty rights should not be implemented in the United States because it not only conflicts with many common law doctrines, but also fails to further the goals enumerated in the Copyright Clause of the U.S. Constitution.
The provision and treatment of royalty rights on the resale of art marks a major distinction in the treatment of art between civil law countries such as France and common law countries such as the United States. The rift between these opposing views became wider in 2001 when the European Union ("EU") moved to harmonize copyright laws amongst its member nations by issuing a directive calling for member states to commence the implementation of royalty rights in 2006.
While the droit de suite is recognized by the European Union as an important right attached to the fine arts, the United States is reluctant to equate artists with other authors and recognize these rights, opting instead for a more traditional view of fine art as real property. However, the United States has taken significant steps to join the international efforts to harmonize the protection of intellectual property by joining the Berne Convention and faces increased pressure from both the European Union as well as artists within the United States to allow artists to participate financially in the resale of their original artworks.
Keywords
Copyright,
international art law,
droit de suite,
resale royalty,
Publication Date
August, 2007
Citation Information
Jonathan D Tepper. "Le Droit de Suite: An Unartistic Approach to American Law"
ExpressO
(2007)
Available at: http://works.bepress.com/jonathan_tepper/1/