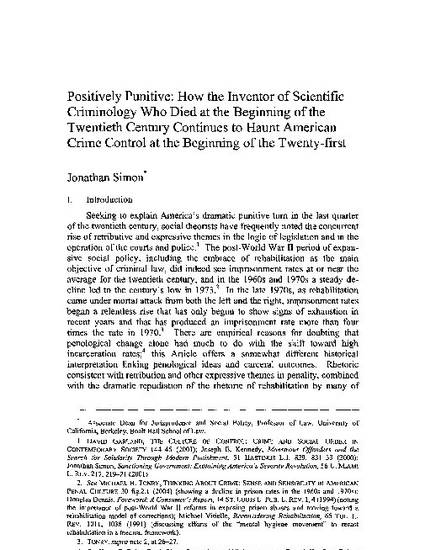 Article
Positively Punitive: How the Inventor of Scientific Criminology Who Died at the Beginning of the Twentieth Century Continues to Haunt American Crime Control at the Beginning of the Twenty-First
Texas Law Review
Publication Date
6-1-2006
Abstract
The article presents a historical interpretation of changes in the penal system of the U.S. Penology is linked with incarceration rate outcomes. Rhetoric is considered in consistency with penalty themes and rehabilitation. The practice of positivist criminology is reflected when proponents viewed themselves as opposition to legal officials' crime control policy ideas.
Citation Information
Jonathan Simon. "Positively Punitive: How the Inventor of Scientific Criminology Who Died at the Beginning of the Twentieth Century Continues to Haunt American Crime Control at the Beginning of the Twenty-First"
Texas Law Review
Vol. 84 (2006) p. 2135
Available at: http://works.bepress.com/jonathan_simon/40/