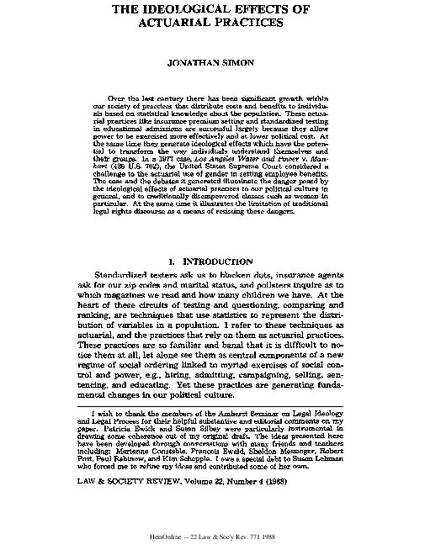 Article
The Ideological Effects of Actuarial Practices
Law & Society Review
Publication Date
1-1-1988
Abstract
Over the last century, there has been significant growth of practices that distribute costs and benefits to individuals based on statistical knowledge about the population. These actuarial practices, like insurance premium setting and standardized testing in educational admissions, are successful largely because they allow power to be exercised more effectively and at lower political cost. At the same time, they generate ideological effects that have the potential to transform the way individuals understand themselves and their groups. In a 1978 case, 'City of Los Angeles Department of Water and Power' v. 'Manhart,' the Supreme Court considered a challenge to the actuarial use of gender in setting employee benefits. The case and the debates it generated illuminate the danger posed by the ideological effects of actuarial practices to our political culture in general, and to such traditionally disempowered classes as women in particular. It also illustrates the limitation of traditional legal rights discourse as a means of resisting these dangers.
Citation Information
Jonathan Simon. "The Ideological Effects of Actuarial Practices"
Law & Society Review
Vol. 22 (1988) p. 771
Available at: http://works.bepress.com/jonathan_simon/16/