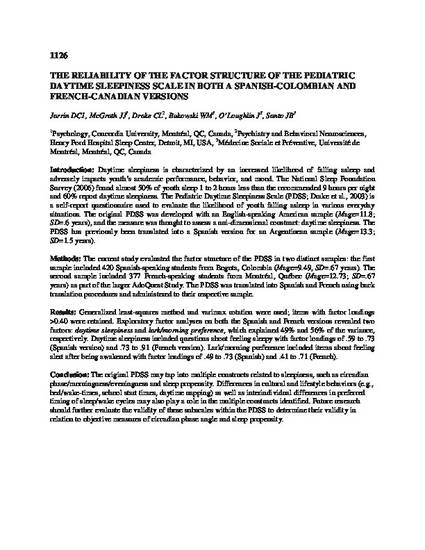 Other
The Reliability of the Factor Structure of the Pediatric Daytime Sleepiness Scale in both a Spanish-Colombian and French-Canadian Version
SLEEP Abstract Supplement
Publication Date
1-1-2009
Abstract
Daytime sleepiness is characterized by an increased likelihood of falling asleep and adversely impacts youth's academic performance, behavior, and mood. The National Sleep Foundation Sur­vey (2006) found almost 50% of youth sleep 1 to 2 hours less than the recommended 9 hours per night and 60% report daytime sleepiness. The Pediatric Daytime Sleepiness Scale (PDSS; Drake et al., 2003) is a self-report questionnaire used to evaluate the likelihood of youth falling asleep in various everyday situations. The original PDSS was developed with an English-speaking American sample (Mage=11.8; SD=.6 years), and the measure was thought to assess a uni-dimensional construct: day­time sleepiness. The PDSS has previously been translated into a Spanish version for an Argentinean sample (Mage=13.3; SD=1.5 years).
Citation Information
D. C. Jarrin, J. J. McGrath, C. L. Drake, W. M. Bukowski, et al.. "The Reliability of the Factor Structure of the Pediatric Daytime Sleepiness Scale in both a Spanish-Colombian and French-Canadian Version"
SLEEP Abstract Supplement
Vol. 32 (2009) p. 401 - 401
Available at: http://works.bepress.com/jonathan_santo/7/