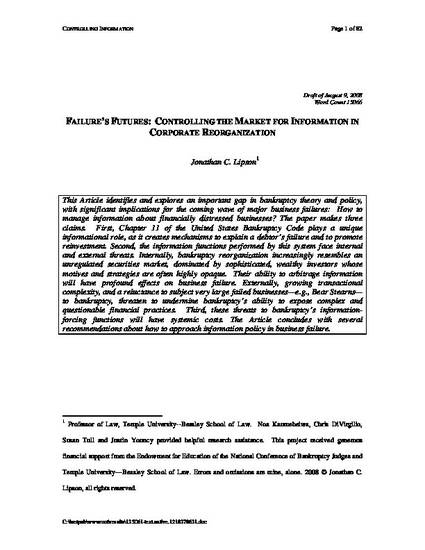 Unpublished Paper
Failure's Futures: Controlling the Market for Information in Corporate Reorganization
ExpressO (2008)
Abstract
This Article identifies and explores an important gap in bankruptcy theory and policy, with significant implications for the coming wave of major business failures: How to manage information about financially distressed businesses?
The paper makes three claims. First, Chapter 11 of the United States Bankruptcy Code plays a unique informational role, as it creates mechanisms to explain a debtor's failure and to promote reinvestment. Second, the information functions performed by this system face internal and external threats. Internally, bankruptcy reorganization increasingly resembles an unregulated securities market, dominated by sophisticated, wealthy investors whose motives and strategies are often highly opaque. Their ability to arbitrage information will have profound effects on business failure. Externally, growing transactional complexity, and a reluctance to subject very large failed businesses—e.g., Bear Stearns—to bankruptcy, threaten to undermine bankruptcy's ability to expose complex and questionable financial practices. Third, these threats to bankruptcy's information-forcing functions will have systemic costs. The Article concludes with several recommendations about how to approach information policy in business failure.
Keywords
bankruptcy reorganization,
chapter 11,
credit crisis,
hedge funds,
securities markets,
bear stearns
Publication Date
August 10, 2008
Citation Information
Jonathan C. Lipson. "Failure's Futures: Controlling the Market for Information in Corporate Reorganization"
ExpressO
(2008)
Available at: http://works.bepress.com/jonathan_lipson/1/