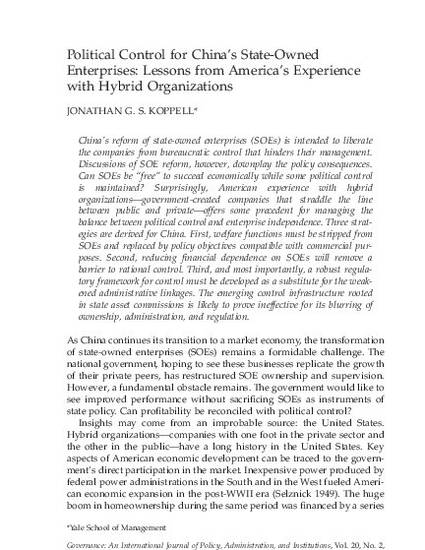 Article
Political Control for China's State-Owned Enterprises: Lessons from America's Experience with Hybrid Organizations
Governance (2007)
Abstract
China's reform of state-owned enterprises (SOEs) is intended to liberate the companies from bureaucratic control that hinders their management. Discussions of SOE reform, however, downplay the policy consequences. Can SOEs be "free" to succeed economically while some political control is maintained? Surprisingly, American experience with hybrid organizations—government-created companies that straddle the line between public and private—offers some precedent for managing the balance between political control and enterprise independence. Three strategies are derived for China. First, welfare functions must be stripped from SOEs and replaced by policy objectives compatible with commercial purposes. Second, reducing financial dependence on SOEs will remove a barrier to rational control. Third, and most importantly, a robust regulatory framework for control must be developed as a substitute for the weakened administrative linkages. The emerging control infrastructure rooted in state asset commissions is likely to prove ineffective for its blurring of ownership, administration, and regulation.
Publication Date
April, 2007
Citation Information
Jonathan GS Koppell. "Political Control for China's State-Owned Enterprises: Lessons from America's Experience with Hybrid Organizations"
Governance
Vol. 20 Iss. 2 (2007)
Available at: http://works.bepress.com/jonathan_koppell/3/