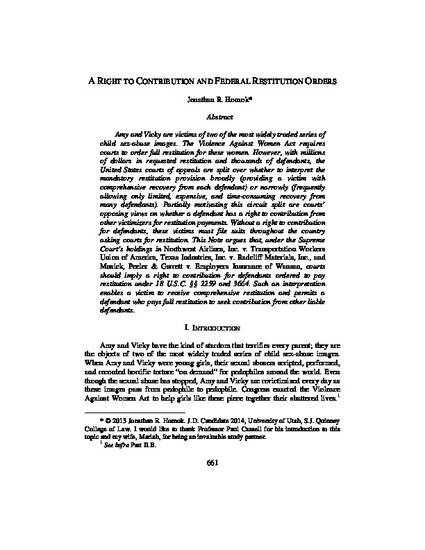 Article
A Right to Contribution and Federal Restitution Orders
Utah Law Review (2013)
Abstract
Amy and Vicky are victims of two of the most widely traded series of child sex-abuse images. The Violence Against Women Act requires courts to order full restitution for these women. However, with millions of dollars in requested restitution and thousands of defendants, the United States courts of appeals are split over whether to interpret the mandatory restitution provision broadly (providing a victim with comprehensive recovery from each defendant) or narrowly (frequently allowing only limited, expensive, and time-consuming recovery from many defendants). Partially motivating this circuit split are courts' opposing views on whether a defendant has a right to contribution from other victimizers for restitution payments. Without a right to contribution for defendants, these victims must file suits throughout the country asking courts for restitution. This Note argues that, under the Supreme Court's holdings in Northwest Airlines, Inc. v. Transportation Workers Union of America, Texas Industries, Inc. v. Radcliff Materials, Inc., and Musick, Peeler & Garrett v. Employers Insurance of Wausau, courts should imply a right to contribution for defendants ordered to pay restitution under 18 U.S.C. §§ 2259 and 3664. Such an interpretation enables a victim to receive comprehensive restitution and permits a defendant who pays full restitution to seek contribution from other liable defendants.
Citation Information
Jonathan R. Hornok. "A Right to Contribution and Federal Restitution Orders"
Utah Law Review
Vol. 2013 Iss. 2 (2013)
Available at: http://works.bepress.com/jonathan_hornok/2/