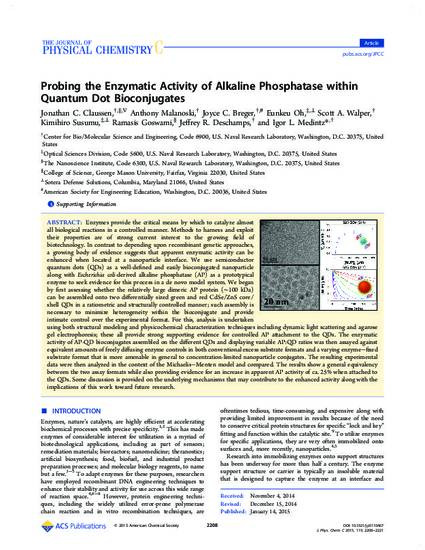 Article
Probing the enzymatic activity of alkaline phosphatase within quantum dot bioconjugates
Journal of Physical Chemistry C (2015)
Abstract
Enzymes provide the critical means by which to catalyze almost all biological reactions in a controlled manner. Methods to harness and exploit their properties are of strong current interest to the growing field of biotechnology. In contrast to depending upon recombinant genetic approaches, a growing body of evidence suggests that apparent enzymatic activity can be enhanced when located at a nanoparticle interface. We use semiconductor quantum dots (QDs) as a well-defined and easily bioconjugated nanoparticle along with Escherichia coli-derived alkaline phosphatase (AP) as a prototypical enzyme to seek evidence for this process in a de novo model system. We began by first assessing whether the relatively large dimeric AP protein (∼100 kDa) can be assembled onto two differentially sized green and red CdSe/ZnS core/shell QDs in a ratiometric and structurally controlled manner; such assembly is necessary to minimize heterogeneity within the bioconjugate and provide intimate control over the experimental format. For this, analysis is undertaken using both structural modeling and physicochemical characterization techniques including dynamic light scattering and agarose gel electrophoresis; these all provide strong supporting evidence for controlled AP attachment to the QDs. The enzymatic activity of AP-QD bioconjugates assembled on the different QDs and displaying variable AP:QD ratios was then assayed against equivalent amounts of freely diffusing enzyme controls in both conventional excess substrate formats and a varying enzyme-fixed substrate format that is more amenable in general to concentration-limited nanoparticle conjugates. The resulting experimental data were then analyzed in the context of the Michaelis-Menten model and compared. The results show a general equivalency between the two assay formats while also providing evidence for an increase in apparent AP activity of ca. 25% when attached to the QDs. Some discussion is provided on the underlying mechanisms that may contribute to the enhanced activity along with the implications of this work toward future research.
Keywords
Biomolecules,
electrophoresis,
enzymes,
escherichia coli,
light scattering,
nanocrystals,
nanoparticles,
enzymatic activities,
nanoscience,
Center for Bio/Molecular Science and Engineering,
Optical Sciences Division,
The Nanoscience Institute,
College of Sciences,
George Mason University,
Sotera Defense Solutions,
American Society for Engineering Education
Citation Information
Jonathan C. Claussen, Anthony Malanoski, Joyce C. Breger, Eunkeu Oh, et al.. "Probing the enzymatic activity of alkaline phosphatase within quantum dot bioconjugates"
Journal of Physical Chemistry C
Vol. 119 Iss. 4 (2015)
Available at: http://works.bepress.com/jonathan_claussen/12/