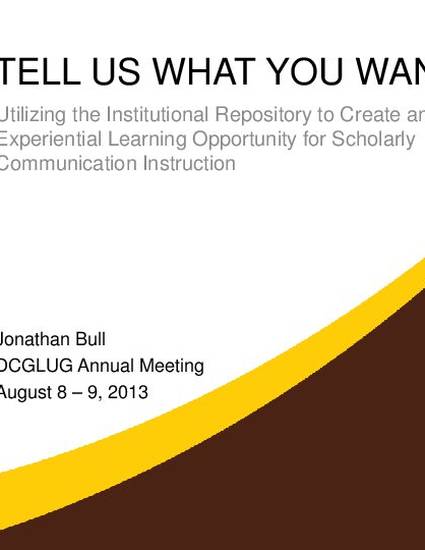 Presentation
Tell Us What You Want To Do: Utilizing the Institutional Repository to Create an Experiential Learning Opportunity for Scholarly Communication Instruction
Digital Commons Great Lakes User Group Annual Meeting (2013)
Abstract
In Spring 2013, students in the Literary Editing and Publishing (English 380) class at Valparaiso University (Valpo) were asked to create a proposal for a literary review for which they would be the editorial board. This presentation will discuss the class assignment's design, which the English faculty member and librarian co-authored, plus the various publishing concerns and problems that the class raised, what changes we might make in the future, as well as ask broader questions about how making the undergraduate student a publisher could drastically reframe scholarly communication instruction.
Publication Date
August 9, 2013
Citation Information
Jonathan Bull. "Tell Us What You Want To Do: Utilizing the Institutional Repository to Create an Experiential Learning Opportunity for Scholarly Communication Instruction"
Digital Commons Great Lakes User Group Annual Meeting
(2013)
Available at: http://works.bepress.com/jonathan_bull/13/