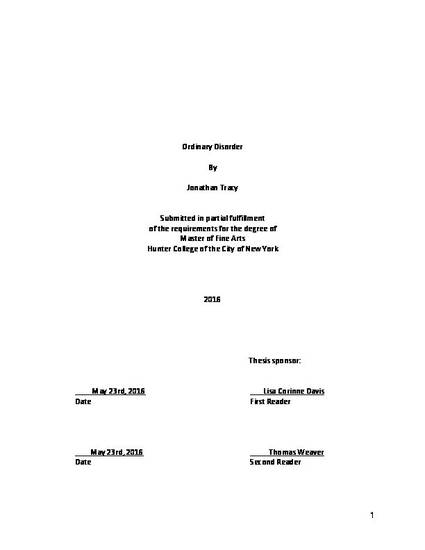 Thesis
Ordinary Disorder
(2016)
Abstract
The pictorial spaces in my paintings are found through many drawings, based on memories. In these drawings I use the architectural technique of paraline drawing, in pointed contrast to one or two point perspective. With a fixed point of view unavailable, the viewer or reader becomes the writer too. This is what I intend. The paraline method also engages specific corners of art history to which I relate, including woodblock prints of Japanese interiors, Chinese brush painting landscapes with houses, and the shifting, rotating perspectives found in Baroque painting.
My intensely personal memories/drawings are transfused into highly material finished paintings. Disorder in these works' broken surfaces also connotes the illusive, fleeting mechanics of my consciousness and metaphysical perceptions, often located in a kind of interior space that is web-like. Because I am acutely aware of the world constantly shifting around me, the synthesis and structure that resides in my younger memory provides a stable locus for the work - which nevertheless still tangles, splashes, and interleaves during visualization. Yet I cannot ever detach from these felt places to explicitly construct images that speak about or critique culture or the world at large. Rather, my work is more close to the transcendental, lived experience painted by the contemporary artist Cynthia Daignault. Daignault's presentation derides painting as a product and attempts to close in on her memory flow.
                  I also find relation to the work of Richard Artschwager, based on its four stated elements: the frame, domestic subject matter, coloration, and formal/tactile qualities. As agreed upon by Artschwager and expressed in his work, pictorial memories of things outside of ourselves can only truthfully consist of so many things. My painted execution, along with its slippages between representation and symbol, produces a clearing in which the content of my paintings roam.
Keywords
Painting,
Drawing,
Psychology,
data decay,
Process,
Cynthia Daignault,
Richard Artschwager,
Symbol,
icon,
perspertive,
perception,
metaphysics
Publication Date
Spring May 23, 2016
Advisor
Lisa Corinne Davis
Citation Information
Jonathan S Tracy. "Ordinary Disorder" (2016)
Available at: http://works.bepress.com/jonathan-tracy/1/