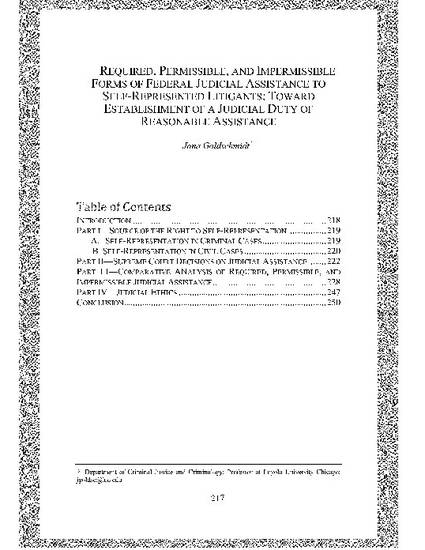 Article
Required, Permissible, and Impermissible Forms of Federal Judicial Assistance to Self-Represented Litigants: Toward Establishment of a Judicial Duty of Reasonable Assistance
Cardozo Journal of Equal Rights and Social Justice
Publication Date
1-1-2019
Abstract
In an effort to assist the judiciary in navigating the seemingly mixed messages coming from the Supreme Court, this paper reviews federal Circuit Court of Appeals case law which discusses required, permissible, and impermissible forms of judicial assistance to SRLs.
Creative Commons License
Creative Commons Attribution-Noncommercial-No Derivative Works 3.0
Copyright Statement
© 2019 Jona Goldschmidt. This article first appeared in the Cardozo Journal of Equal Rights and Social Justice 25, 2 (2019).
Citation Information
Jona Goldschmidt. "Required, Permissible, and Impermissible Forms of Federal Judicial Assistance to Self-Represented Litigants: Toward Establishment of a Judicial Duty of Reasonable Assistance"
Cardozo Journal of Equal Rights and Social Justice
Vol. 25 Iss. 2 (2019)
Available at: http://works.bepress.com/jona-goldschmidt/21/