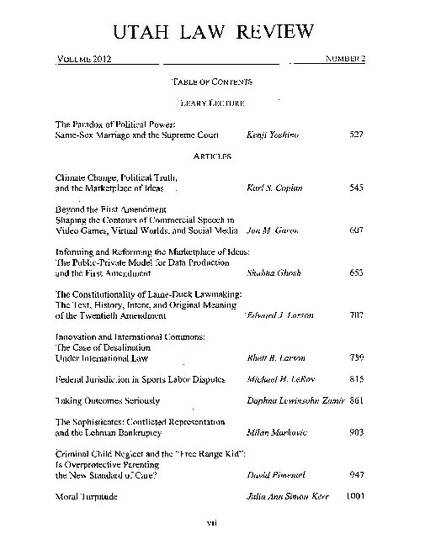 Article
Beyond the First Amendment: Shaping the Contours of Commercial Speech in Video Games, Virtual Worlds and Social Media
Utah Law Review
Publication Date
1-1-2012
Abstract
In Brown v. Entertainment Merchants Association (2011), the Supreme Court stated unequivocally that video games are entitled to the same broad First Amendment protections as those afforded to other media. But just as laws and regulations distinguish newspaper, magazine and television content from the advertising sold in those media, new policies are required to distinguish the communicative content of video games, virtual worlds and social media from the advertising and commercial purpose activity conducted in those media. Particularly in the area of publicity rights, states and courts have struggled to delineate those contours. This article outlines the emerging contours of commercial speech under recent First Amendment jurisprudence, highlighting the free speech rights of publishers, participants and players while shielding individuals from unfair commercial exploitation and protecting the public from misleading advertising.
Publication Title (Abbreviation)
UtahLRev
Citation Information
Jon M. Garon, Beyond the First Amendment: Shaping the Contours of Commercial Speechin Video Games, Virtual Worlds and Social Media, 2012 UTAH L. REV. 607 (2012).