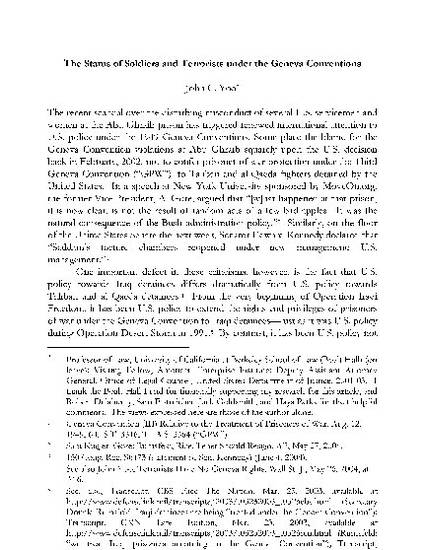 Article
The Status of Soldiers and Terrorists under the Geneva Conventions
Chinese Journal of International Law
Publication Date
1-1-2004
Abstract
Outlines the legal case for denying Geneva Convention protection to Taliban and al Qaeda detainees in the U.S. Difference between U.S. policy towards Iraq detainees and the policy towards Taliban and al Qaeda; Impact of the Geneva Convention on the U.S. goal of effective acquisition of intelligence from the interrogation of detainees; Incentives and disincentives of the enforcement of international law; Comparison of the legal rights of members of al Qaeda and the Taliban militias from professional soldiers; Customary laws governing war combatants and civilians.
Citation Information
John C. Yoo. "The Status of Soldiers and Terrorists under the Geneva Conventions"
Chinese Journal of International Law
Vol. 3 (2004) p. 135
Available at: http://works.bepress.com/johnyoo/58/