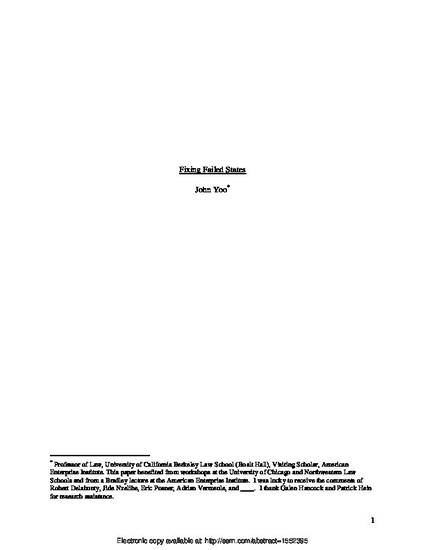 Article
Fixing Failed States
California L Rev (2011)
Abstract
Failed states pose one of the deepest challenges to American national security and international peace and stability. Finding a comprehensive and effective solution to the challenges of terrorism, human rights violations, or poverty and economic development requires some understanding of how to restore failed states. The response of the United States and its allies has remained the same: to rebuild the institutions of state control, and, if lucky, to plant a working democracy and a market economy within existing state borders. But many international law scholars remain openly dubious about the ability of states to rebuild – the problem is not failed states but the nation-state as the primary actor in international relations. This paper argues that both American and U.N policy on the one hand, and the conventional academic wisdom on the other hand, are mistaken. Building a normal nation-state with full sovereignty on every territory in the world, without changing any borders, fails to understand why some states are failing in the first place. Viable states simply do not align with the borders recognized by the United Nations or created during the period of rapid decolonization in the decades after World War II. Academics who see in failed states the rise of alternatives to the nation-state have no practical solutions that do not depend on the political, economic, and military resources of strong nation-states. Without them, supra-national governments, trusteeships, or non-governmental organizations have shown little ability to fix failed states. This paper argues that powerful nations can help by performing the more modest role of promoting and guaranteeing power-sharing agreements between competing groups within failed states. It concludes by illustrating the thesis with the outcome of the surge in Iraq.
Keywords
Failed States,
Intervention,
U.N. Charter,
Enforcement
Citation Information
John C Yoo. "Fixing Failed States"
California L Rev
(2011)
Available at: http://works.bepress.com/johnyoo/52/