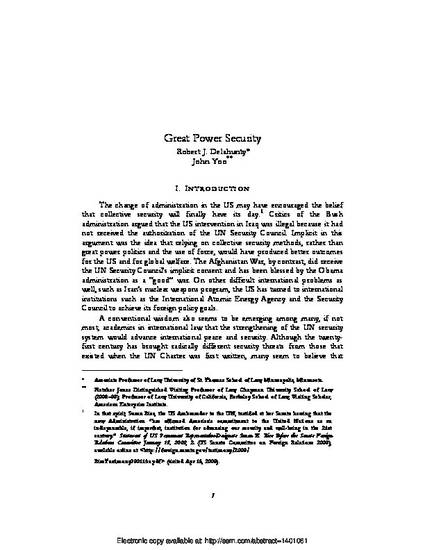 Article
Great Power Security
Chicago J Int'l L (2009)
Abstract
The change of administration in the US may have encouraged the belief that collective security will finally have its day. A conventional wisdom also seems to be emerging among many, if not most, academics in international law that the strengthening of the UN security system would advance international peace and security. Although the twenty-first century has brought radically different security threats from those that existed when the UN Charter was first written, many seem to believe that concentrating authority in the Security Council remains the most effective international legal process for the use of force. Resurrecting the formal UN Charter rules on the use of force, however, would have the perverse effect of making international peace and security more difficult to achieve. Not only has that system failed in practice, but it is not designed to deal with the changing nature of warfare. The Charter's use-of-force rules were addressed to the prevention or reduction of armed conflict between states. They are not adequate to deal with the more contemporary problems of civil war, mass violence against civilians at the hands of non-state terrorist groups, the protection of populations from genocide or other atrocities inflicted by their own governments, or the violence that is bred within failed or failing states. What is needed is a new international legal regime for regulating the use of force by states against the threats of these varying kinds. The overarching goal of this regime should be the maintenance of international peace and stability through the pursuit of global welfare. Unlike the UN Charter system, which is designed to drive the use of force by states close to zero, a reconstructed international legal system should seek to produce the optimal level of force, thus allowing armed interventions for the purpose of preventing catastrophic harms. The emergence of new great powers (China, the EU, and India, for example) and the re-emergence of older ones (such as Russia) have apparently begun to shift the post-Cold War world from unipolarity to multipolarity. Global peace and security in the future may no longer be underwritten by an (assumedly) "hegemonic" US. Instead, the world may experience a return to the kind of great power politics that was prevalent in Europe before World War I (and arguably, throughout recorded human history). While we would not attempt to forecast how an emerging multipolar world would work, an explicit great power system could well ameliorate the collective action problems that the current UN Charter system exacerbates, and thus could advance global welfare.
Keywords
International law,
use of force,
united nations
Citation Information
John C Yoo and Robert J Delahunty. "Great Power Security"
Chicago J Int'l L
Vol. 10 (2009)
Available at: http://works.bepress.com/johnyoo/47/