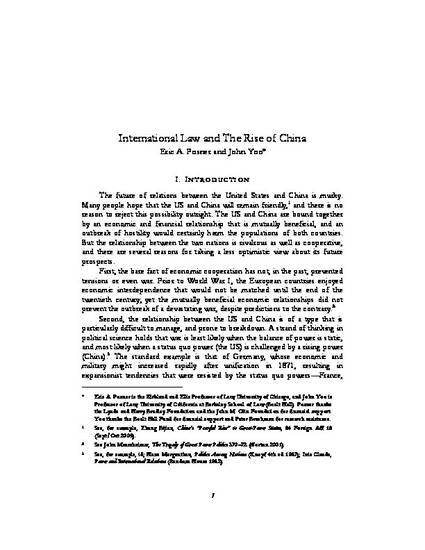 Article
International Law and the Rise of China
Chicago Journal of International Law (2006)
Abstract
The rise of China raises questions about the future of international law. The current system of international law depends largely on American hegemony, along with the dominance of western European states that share America's general goals and values. It is possible that China in the future will not threaten this system, either because China comes to share these goals and values or because China breaks apart. But the more likely scenario is that China will compete with the U.S. for regional and then global influence. We argue that in such a world the current system of international law will not be viable, and that future international law will resemble either the nineteenth century balance of powers system, or the cold war bipolar system.
Keywords
China,
International Law,
Collective Security,
Use of Force
Citation Information
John C Yoo and Eric Posner. "International Law and the Rise of China"
Chicago Journal of International Law
Vol. 7 (2006)
Available at: http://works.bepress.com/johnyoo/36/