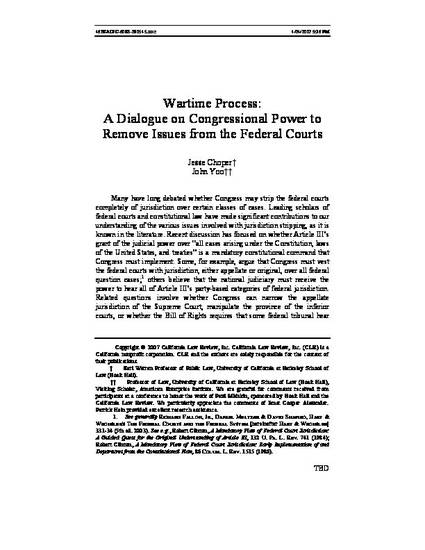 Article
Wartime Process: A Dialogue on Congressional Power to Remove Issues from the Federal Courts
California Law Review (2007)
Abstract
Many have long debated whether Congress may strip the federal courts completely of jurisdiction over certain classes of cases. Until the last few years, these debates met the very definition of academic. Aside from two statutes, Congress had never engaged in clear removal of cases from the Supreme Court or the lower federal courts. That changed with the Court's decision in Rasul v. Bush, which extended the federal writ of habeas corpus to alien enemy combatants detained at the Guantanamo Bay, Cuba Naval Station. In response to Rasul, Congress enacted the Detainee Treatment Act of 2005 (DTA), which forbade any federal court to entertain a petition for a writ of habeas corpus from an enemy combatant held at Guantanamo Bay. To honor Paul Mishkin's many years of work on central federal courts questions, we will discuss our differing views regarding the constitutional issues raised by the DTA and MCA. Limiting the habeas corpus jurisdiction of the federal courts for aliens held at Guantanamo Bay may represent error correction, but it also exposes the MCA to attack as unconstitutional jurisdiction stripping or an illegal suspension of the writ of habeas corpus. Our dialogue identifies and articulates the conflict between two long-standing constitutional principles. On one side lies congressional control over the jurisdiction of the federal courts, and a complementary reliance on the political branches to manage wartime strategy and tactics. On the other rests the Due Process Clause's requirement that all persons receive a fair opportunity to challenge the constitutionality of their detention by the government.
Keywords
federal courts,
federal jurisdiction,
terrorism,
war,
habeas corpus
Publication Date
August, 2007
Citation Information
John C Yoo and Jesse Choper. "Wartime Process: A Dialogue on Congressional Power to Remove Issues from the Federal Courts"
California Law Review
Vol. 95 (2007)
Available at: http://works.bepress.com/johnyoo/33/