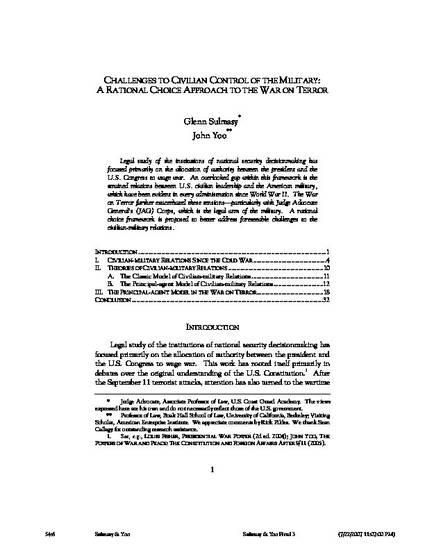 Article
Challenges to Civilian Control of the Military: A Rational Choice Approach to the War on Terror
UCLA L. Rev. (2007)
Abstract
An overlooked gap in the legal study of national security decisionmaking is civil-military relations. Civilian control of the military remains one of the fundamental norms of our constitutional system, and it appears regularly in the day-to-day functioning of our national security institutions. The War on Terror has exacerbated growing tensions between the civilian leadership and the American military, particularly with the Judge Advocate General's Corps. We propose a rational choice framework to understand and better address challenges to civilian-military relations.
Citation Information
John C Yoo. "Challenges to Civilian Control of the Military: A Rational Choice Approach to the War on Terror"
UCLA L. Rev.
Vol. 54 (2007)
Available at: http://works.bepress.com/johnyoo/20/