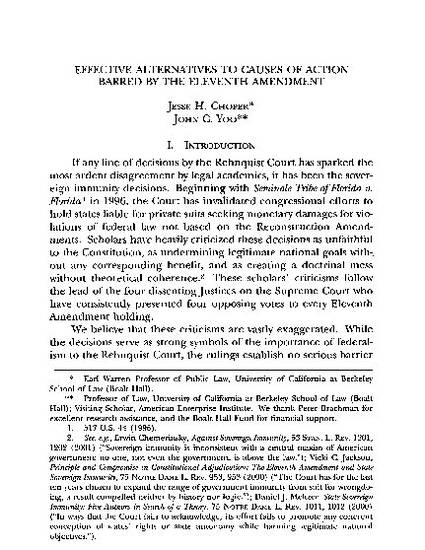 Article
Effective Alternatives to Causes of Action Barred by the Eleventh Amendment
New York Law School Law Review
Publication Date
1-1-2005
Abstract
The article discusses several alternatives to causes of action barred by the Eleventh Amendment in the U.S. It discusses the Eleventh Amendment cases and the academic commentary they have generated. Moreover, it explains the internal constraints on state sovereign immunity such as suits against state officers in their private capacities. In addition to internal constraints, external limitations on sovereign immunity are also addressed.
Citation Information
Jesse H. Choper and John C. Yoo. "Effective Alternatives to Causes of Action Barred by the Eleventh Amendment"
New York Law School Law Review
Vol. 50 (2005) p. 715
Available at: http://works.bepress.com/johnyoo/104/