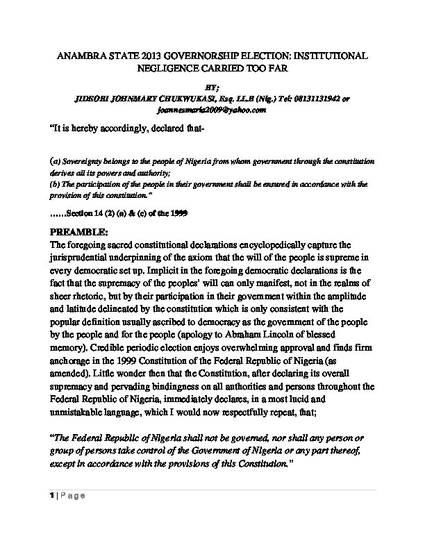 Abstract
As the title of this article suggests, the preoccupation of this writer is to embark on a voyage of enquiry into the issues and controversies stirred by and surrounding the governorship election held on November 16th,2013 in Anambra State of Nigeria especially an in-depth examination of how far/well the institution of the Independent National Electoral Commission (hereinafter indiscriminately referred to as "the INEC" "the Commission" or "the Umpire" for the purposes of convenience and elimination of prolixity) discharged its constitutionally assigned onerous responsibility.
Against the background of the weighty allegations of administrative lapses resulting in "disappearance" of names of registered voters from the voters' register levied against the INEC, the (wild) claims and counter (wild) claims of the perceived beneficiaries and victims of the said administrative lapses and other questionable circumstances encircling the entire exercise, it shall be the vigorous contention of this piece that should the Commission be found guilty of the accusations leveled against it (especially those verging on negligence), the aggrieved contestants, their political parties or the unlawfully disenfranchised citizens of the state will have grounded a cause and right of action under the tort of negligence and employer's liability as rooted in the doctrine of vicarious liability. This suit in negligence could be initiated before the Federal High Court either individually by the disenfranchised citizen(s), the contestant(s) in the election or brought on a representative platform by their political party/parties and successfully recover damages from the Commission. It is good to note from the onset that this writer has no sympathy for neither the beneficiaries nor the victims of INEC's alleged administrative lapses (since the issues at stake are larger and far beyond these key players) but shall steadily focus on the possible legal implications of the entire exercise while proffering workable solutions aimed at protecting, promoting and nurturing our democracy and strengthening of our democratic institutions.
Keywords
Electoral Laws,
1999 Constitution,
The INEC,
The Commission,
Institutional Negligence,
Vicarious Liability,
Governorship Election,
Anambra State 2013,
Voters' Register,
maintain,
maintenance of voters' register,
Gross Negligence,
Culpable Carelessness,
Disenfranchised citizens.
Publication Date
Spring November 23, 2013
Citation Information
JOHNMARY CHUKWUKASI JIDEOBI. MR.. (2013)
Available at: http://works.bepress.com/johnmary_jideobi/1/