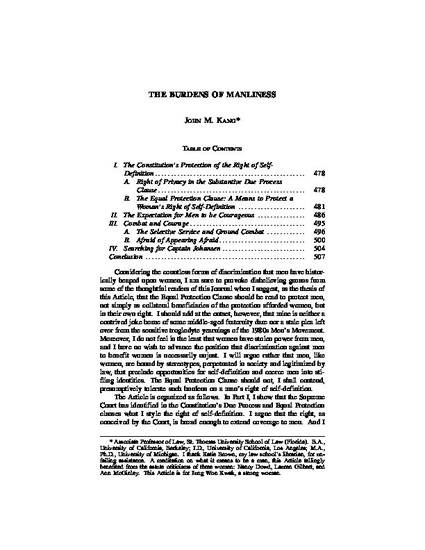 Article
The Burdens of Manliness
Harvard Journal of Law and Gender (2010)
Abstract
Considering the countless forms of discrimination that men have historically heaped upon women, I am sure to provoke disbelieving groans from some of the thoughtful readers of this Journal when I suggest, as the thesis of this Article, that the Equal Protection Clause should be read to protect men, not simply as collateral beneficiaries of the protection afforded women, but in their own right. I should add at the outset, however, that mine is neither a contrived joke borne of some middle-aged fraternity dare nor a stale plea left over from the sensitive troglodyte yearnings of the 1980s Men's Movement. Moreover, I do not feel in the least that women have stolen power from men, and I have no wish to advance the position that discrimination against men to benefit women is necessarily unjust. I will argue rather that men, like women, are bound by stereotypes, perpetuated in society and legitimized by law, that preclude opportunities for self-definition and coerce men into stifling identities. The Equal Protection Clause should not, I shall contend, presumptively tolerate such burdens on a man's right of self-definition.
Keywords
masculinity,
manliness,
manhood,
courage,
cowardice,
fear,
war,
combat,
autonomy
Publication Date
Summer August, 2010
Citation Information
John M Kang. "The Burdens of Manliness"
Harvard Journal of Law and Gender
Vol. 33 (2010)
Available at: http://works.bepress.com/johnkang/8/