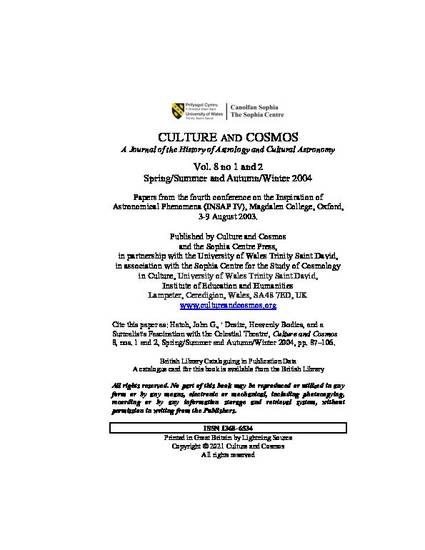 Article
Desire, Heavenly Bodies, and a Surrealist's Fascination with the Celestial Theatre
Culture and Cosmos (2004)
Abstract
In 1922, the German Surrealist artist Max Ernst produced a montage work that included a woman's bare buttocks protruding out of the rings of Saturn. It is, to say the least, an unusual combination of images, but one that addresses some very basic human impulses. Largely, It expresses Ernst's understanding that inscribed upon the night sky are some of our deepest held fears and fantasies. Ernst sought to generate contemporary rephrasings of our mythologizing of the cosmos in a complex and often enigmatic way, drawing on such varied sources as Freudian psychology, late nineteenth-century symbolism, alchemy, and Surrealism. Ultimately, Ernst manages to weave an intricate, cryptically autobiographical, narrative through such astronomical bodies and groups of stars as Saturn, the Pleiades, Praesepe, Cygnus, to name but a few. This paper navigates some of the celestial imagery found in the work of Ernst between 1919 and 1934 in the hopes of demonstrating, in its own small way, Just how rich of a source astronomy has been for modern and contemporary art.
Keywords
Desire,
Heavenly Bodies,
Surrealism,
Celestial Theatre
Publication Date
Fall 2004
Citation Information
John G. Hatch. "Desire, Heavenly Bodies, and a Surrealist's Fascination with the Celestial Theatre"
Culture and Cosmos
Vol. 8 Iss. 1-2 (2004)
Available at: http://works.bepress.com/johnhatch/1/