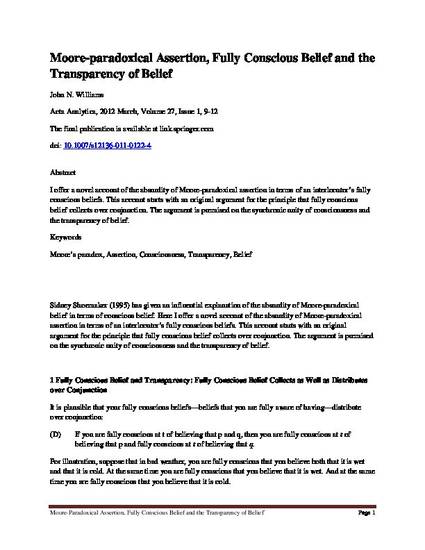 Article
Moore-Paradoxical Assertion, Fully Conscious Belief and the Transparency of Belief
Acta Analytica
Publication Type
Journal Article
Abstract
I offer a novel account of the absurdity of Moore-paradoxical assertion in terms of an interlocutor's fully conscious beliefs. This account starts with an original argument for the principle that fully conscious belief collects over conjunction. The argument is premised on the synchronic unity of consciousness and the transparency of belief.
Keywords
Moore,
paradox,
Assertion,
Consciousness,
Transparency,
Belief
Identifier
10.1007/s12136-011-0122-4
Publisher
Springer Verlag
Creative Commons License
Creative Commons Attribution-Noncommercial-No Derivative Works 4.0
Additional URL
http://dx.doi.org/10.1007/s12136-011-0122-4
Citation Information
John N. WILLIAMS. "Moore-Paradoxical Assertion, Fully Conscious Belief and the Transparency of Belief"
Acta Analytica
Vol. 27 Iss. 1 (2012) p. 9 - 12 ISSN: 0353-5150
Available at: http://works.bepress.com/john_williams/80/