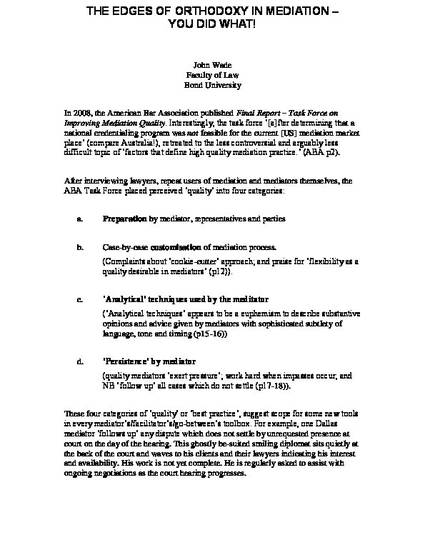 Other
The edges of orthodoxy in mediation - You did what?
Law Faculty Publications
Date of this Version
5-1-2012
Document Type
Miscellaneous Material
Abstract
Extract:In 2008, the American Bar Association published Final Report – Task Force on Improving Mediation Quality. Interestingly, the task force '[a]fter determining that a national credentialing program was not feasible for the current [US] mediation market place' (compare Australia!), retreated to the less controversial and arguably less difficult topic of 'factors that define high quality mediation practice.' (ABA p2).
Citation Information
John Wade. "The edges of orthodoxy in mediation - You did what?" (2012) p. 1 - 7
Available at: http://works.bepress.com/john_wade/65/