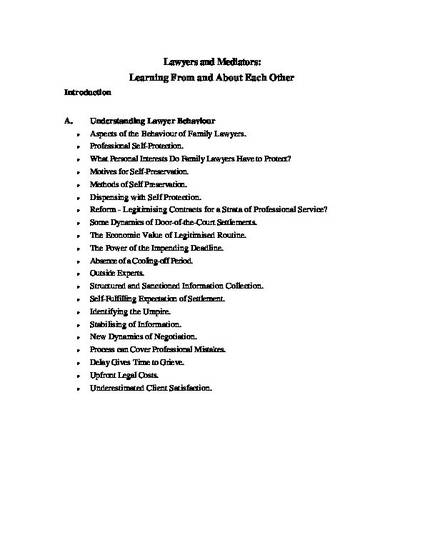 Article
Lawyers and mediators: what each needs to learn from and about the other
Law papers (1991)
Abstract
The mediation movement has been given publicity, funds of taxpayers, and support by propagating simplistic notions of the "adversary" system and of what lawyers do on a daily basis. Conversely, lawyers have often attempted to neutralise this rival profession by (as major doorkeepers to serious family disputes) wilful ignorance of their own behaviour, ignorant criticism of mediator behaviour, anecdotal warfare and attempts to co-opt mediation under their own monopolistic umbrella.
This paper reflects upon the behaviour of both family lawyers and family mediators with the aim of assisting each group understand the other. Both groups have much to learn from studying the other. The legal profession has only begun to study itself - some of its members remain unduly fearful of demystification.
Keywords
family lawyers,
family mediators,
comparison,
behaviour
Publication Date
January 1, 1991
Citation Information
John Wade. "Lawyers and mediators: what each needs to learn from and about the other"
Law papers
(1991)
Available at: http://works.bepress.com/john_wade/5/