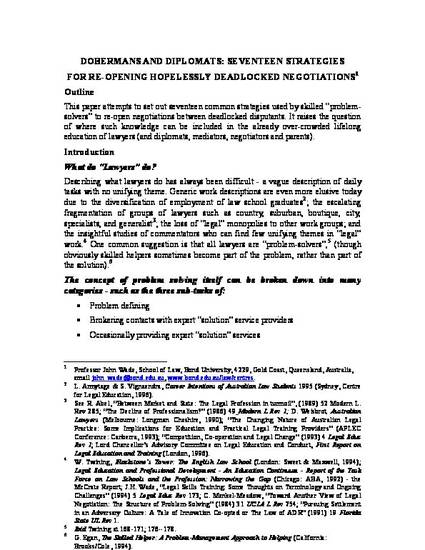 Article
Dobermans and diplomats: seventeen strategies for re-opening hopelessly deadlocked negotiations.
Law Faculty Publications
Date of this Version
7-1-2006
Document Type
Miscellaneous Material
Abstract
Extract: This paper attempts to set out seventeen common strategies used by skilled "problem-solvers" to re-open negotiations between deadlocked disputants. It raises the question of where such knowledge can be included in the already over-crowded lifelong education of lawyers (and diplomats, mediators, negotiators and parents).
Citation Information
John Wade. "Dobermans and diplomats: seventeen strategies for re-opening hopelessly deadlocked negotiations." (2006)
Available at: http://works.bepress.com/john_wade/14/