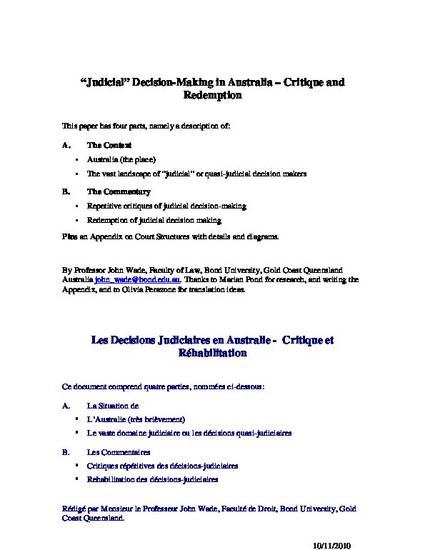 Article
"Judicial" decision-making in Australia – Critique and redemption
Law papers (2008)
Abstract
Extract:

This paper has four parts, namely a description of:

A. The Context ▪ Australia (the place) ▪ The vast landscape of "judicial" or quasi-judicial decision makers

B. The Commentary ▪ Repetitive critiques of judicial decision-making ▪ Redemption of judicial decision making

Plus an Appendix on Court Structures with details and diagrams.
Keywords
Australian judicial system,
decision-makers,
conflict management
Publication Date
January 1, 2008
Citation Information
John Wade. ""Judicial" decision-making in Australia – Critique and redemption"
Law papers
(2008)
Available at: http://works.bepress.com/john_wade/1/