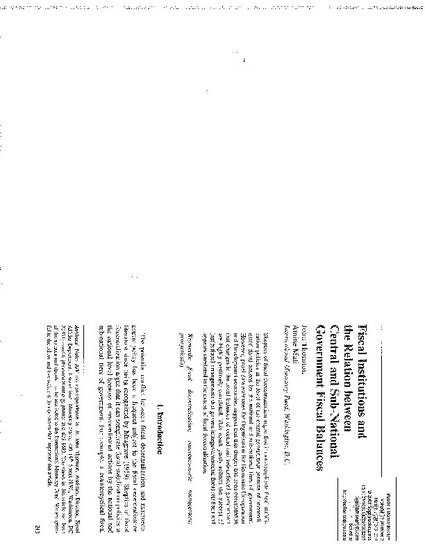 Article
Fiscal institutions and the relation between central and sub-national government fiscal balances
Public Finance Review (2008)
Abstract
Skeptics of fiscal decentralization argue that it can complicate fiscal stabilization policies at the level of the central government because of uncoordinated fiscal actions by the national and sub-national tiers of government. However, panel data estimates for OECD economies suggest that this danger has been overstated in that changes in the fiscal balances of central and sub-national governments are highly positively correlated. This result partly reflects the success of institutional arrangements that govern intergovernmental fiscal relations and appears unrelated to the extent of fiscal decentralization.
Keywords
Fiscal decentralization,
macroeconomic management,
procyclicality
Publication Date
March, 2008
Citation Information
John Thornton. "Fiscal institutions and the relation between central and sub-national government fiscal balances"
Public Finance Review
Vol. 36 Iss. 2 (2008)
Available at: http://works.bepress.com/john_thornton/14/